East Asia
Read here the stories of our students who went to a country in the area of East Asia for their internship.
Internship smiles #7
Nicole Rufer is writing for City Weekend in Shanghai – a lifestyle outlet for expats.
This helps shape her research paper on cosmopolitanism and disparity between locals and foreigners. She is pitching ideas during editorial meetings which are accepted and then writes pieces such as these tantalizing food reviews!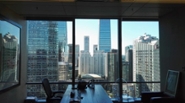 Internship smiles #8
Karel Mahy-Rousseau completed his internship at leading law firm King & Wood Mallesons in Beijing this month.
He did research for legal projects in which Chinese clients aimed at acquiring foreign assets, which included investigating Congolese mining law, Vietnamese wind power regulations and Mexican oil field attribution procedures. He had to master legal terminology to do this work.
The internship clarified his future avenues for Master's programmes in either Public Policy or Law.
Internship smiles #14
Amber Gret is in Tokio interning at ICA Japan. Last weekend she and another intern visited Asago in the Hyogo prefecture to write a research report on community revitalization.
She builds on knowledge from the Culture East Asia course. Japan is struggling with a declining population and extreme urbanization, leaving many small rural cities withouth a young workforce. After interviewing town officials, residents and visiting touristic sites, she is positive that the city will be able to increase tourism and business upon following recommendations.
Throwback internship smile
"Do get lost in the Korean way of life"
In this article we will be catching up with Tijmen Kivit. Currently he is working for a Human Rights organisation in Seoul, South Korea called People for Successful COrean Reunification (PSCORE).