Diplomacy at Leiden University
The Hague Journal of Diplomacy is hosted by the Institute of Security and Global Affairs at Leiden University. Besides the journal, there are many other activities related to diplomacy.
Institute of Security and Global Affairs
The Institute of Security and Global Affairs (ISGA) focuses on multidisciplinary research and education within the international scientific field of security studies.
The Institute analyses and studies issues in a coherent way from their local transnational, and global impact. ISGA operates from The Hague, the third major city of the Netherlands, centre of national governance and International City of Peace, Justice and Security.
Its major research themes are: Cyber Security Governance, Diplomacy and Global Affairs, Governance of Crises, Intelligence and Security, Physical Violence and Public Order, and Terrorism and Political Violence.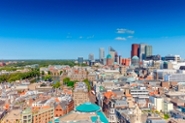 Faculty of Governance and Global Affairs
The Faculty of Governance and Global Affairs does not believe in the traditional boundaries of research disciplines. The mission of this faculty is to develop socially relevant research and education with a strong link to the city of The Hague and its international community in an innovating and inter- and transdisciplinary way.
The faculty has innovating and international teaching programmes and explores new research fields, while demonstrating the value of its research to a broader public. Thus, it contributes to the collection of answers to the administrative and social challenges of today.
The faculty's researchers aim to develop innovating insights into the field of (public) administration and social sectors like sustainability, public health, (inter-)national safety, globalisation, technological developments, digitalisation and big data as well as security.