Visitor Center
Until the 16th of Oktober the Leiden Observatory is housing the exhibition 'Shared Sky'. Two days a week visitors can experience the nightsky through the eyes of artists from South Africa and Australia. These artists have taken tales, myths and knowledge that was passed down by their ancestors and let themselves be inspired by it.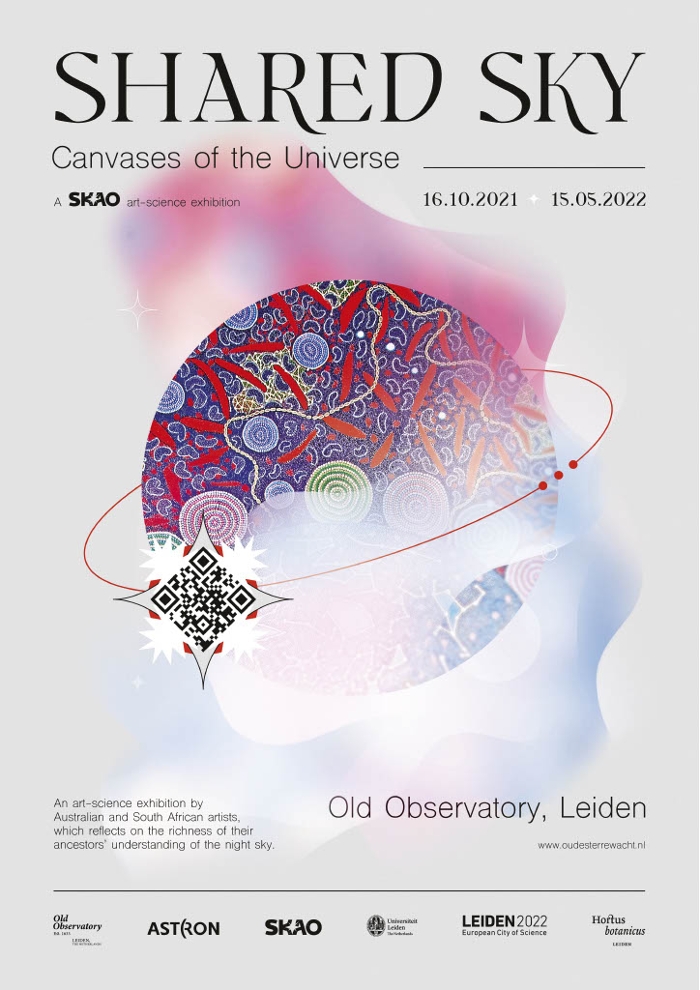 Open hours, route and tickets
The visitor centre is open on Saturday and Sunday from
10:00 to 18:00 (summer:

April 1st - October 31st

)

10:00 to 16:00 (winter:

November 1st - March 31st

)
Access to the building is granted by the Hortus Botanicus Leiden. The entrance to the Hortus Botanicus can be found at Rapenburg 73. There you can buy an admission ticket for the garden. Once in the garden, you can walk to the visitor centre of the Old Observatory. It is located at the end of the garden. The walking route takes about ten minutes.
Entrance to the visitor centre is free of charge, provided you have a valid admission ticket for the Hortus Botanicus Leiden.
You can take pictures in the visitor centre. It is not allowed to use flash or a tripod. If you want to photograph for commercial or journalistic purposes, please contact us.

We ask you to take other visitors into account and limit your phone use as much as possible.

Bringing food or drinks into the exhibition space is not allowed.

Smoking is not permitted in the Old Observatory.

Pets are not allowed in the visitor centre. An assistance dog is allowed to go inside.