Guest Researchers
We welcome a new round of advanced researchers (post-MA) to apply to the institute's guest researchers positions.
As a guest researcher, we will provide you with a work space with desk and computer where you can leave your books, office support, access to our library, administrative support regarding permissions for access to other institutes, libraries, applications for permits etc. (no financial support or residence permits). In return, we expect guest researchers to contribute to the scholarly work at NVIC, for example by presenting a lecture on your research within the weekly lecture series.
The number of desk spaces for guest researchers is limited, so please contact the institute at an early stage at info@nvic.leidenuniv.nl.
Current guest researcher
Dr Stefanie Van de Peer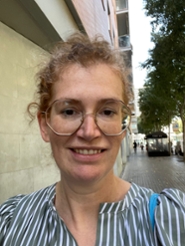 Dr Stefanie Van de Peer is Reader in Film & Media at Queen Margaret University in Edinburgh. She specialises in the role of women on the screen and behind the camera in world cinema, with a particular interest in Southwest Asian and North African film cultures. She's concerned with values like solidarity and sustainability in heritage and how these can be translated across screens. At NVIC, she is spending time delving deeper into the meaning and legacy of women's absences and presences in Egypt's film archives, with a particular focus on feminist filmmaking from the 1970s. She has published several books and articles on the topics of women in world cinemas, animation and documentary filmmaking.
Former guest researchers
Lillian McCabe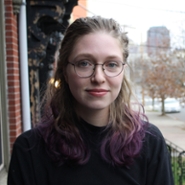 Lillian McCabe is a PhD candidate in the Department of Religious Studies at Yale University and holds an MTS (Master of Theological Studies) from Harvard Divinity School. She studies the history of the occult sciences in Islamicate societies. Her dissertation focuses on Fakhr al-Dīn al-Rāzī's (d. 606/1210) Kitāb al-Sirr al-Maktūm, a work of magic containing sections on planetary invocation, talismans, and spells. Her research traces the circulation of this text, including its translations into Persian and a commentary written on it in the 12/18th century.
Amy Fallas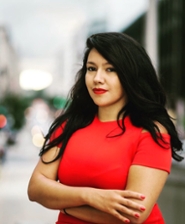 Amy Fallas is a PhD Candidate in the Department of History at UC Santa Barbara. She holds an MA in History from Yale University and is currently the Coptic Studies Fellow for 2022-2023 at the Orthodox Christian Studies Center at Fordham University. She was a 2021-2022 Research Fellow at the American Research Center in Egypt (ARCE) conducting research for her dissertation "Their Own Poor: Communal Identity, Charitable Societies, and the Making of Confessionalism in Modern Egypt 1879-1939." Her research examines religious difference, communal institutions, charity and philanthropy, and historical memory in nineteenth and twentieth century Egypt. She is looking forward to joining the scholarly community at NVIC during her time as a guest-researcher.
Senna Felius
My name is Senna Felius and I'll spend the next months at NVIC researching modern feminist Qur'anic exegesis and its epistemological grounds. I arrived at the intersection between philosophy and Arabic after studying both at the University of Amsterdam. My interests lie amongst others in metaphysics, gender, hermeneutics and also in literature and art. As a break from studying the Qur'an, I'm looking forward to improving my colloquial Arabic by living in Cairo and engaging with its people and culture.
Monika Lindbekk
Dr Monika Lindbekk works as a research fellow at the University of Bergen and is a guest-researcher at The Netherlands-Flemish Institute in Cairo. Her research investigates adjudication of Muslim marriage and divorce law in Egypt and other Muslim majority countries. In addition to several scholarly articles, she has co-edited a volume on Women Judges in the Muslim World together with Nadia Sonneveld (Leiden University), which was published by Brill in April 2017. She co-edited a double special issue on Gender and Judging in Muslim Courts for the Journal of Women of the Middle East and the Islamic World (Brill) published in 2020. She is also co-organizer of an international research collaboration on Gender and Judging under the Law and Society Association.
Javier Guirado Alonso
Our new guest researcher is Javier Guirado Alonso, who is a PhD student and Teaching Assistant at Georgia State University, in Atlanta. He also holds an MA in Contemporary Arab and Islamic Studies by the Autonomous University of Madrid. His research focuses on the historically changing relations between society, the built environment, and narratives of modernity in the Gulf, and some of his work has appeared in Foreign Affairs, The Maydan, or the Georgetown Journal of International Relations. During his time at the NVIC, Javier is going over its collection of Egyptian magazines, trying to find how periodicals like al-Musawwar or Rose al-Yussuf depicted the social and political changes that were taking place in the Gulf during the 1960s and 1970s.
Christian Junge
Christian Junge comes as a guest researcher from mid-September to mid-October. He holds a PhD from the Free University of Berlin and is researcher and lecturer of Modern Arabic literature and culture at the Centre for Near and Middle Eastern Studies at Marburg Universität.
I'm starting a new research project on contemporary Egyptian literature from 1990 to 2020. In particular, I'm interested in bringing together canonical texts with popular fiction and analysing the aesthetics of emotions in literature. I'm very grateful to have the chance to be a guest researcher at the NVIC. This does not only provide me with a lovely working place, but I highly profit from the different research backgrounds of the members of the team and the other guest researchers. During my stay, I want to learn more about the recent Egyptian literary field including its authors, publishers – and normal readers. So, if anyone wants to share her or his reading experience of Egyptian literature, I would very much appreciate that.
I'm very thrilled to be in Cairo and at the NVIC and I'm looking forward to participating in the events of the NVIC and to meeting the members and guest researchers of the NVIC.
Christian Junge
Chloe Bordewich
Chloe Bordewich is a PhD candidate in History & Middle Eastern Studies at Harvard University, from which she already received an MA. After completing her BA in Near Eastern Studies from Princeton University, she was a Center for Arabic Study Abroad (CASA) fellow at the American University in Cairo from 2012-13. Her current research in Egypt, following work in Turkey and the UK, is supported by a Mellon Foundation grant from the Social Science Research Council. 
Bordewich's dissertation examines the nexus of information, power, and social trust in the late and post-Ottoman Arab world between the 1850s and the 1930s. From the second half of the 19th century, the Egyptian and Ottoman states shared in a global panic over the unprecedented volume of information circulating through newly available media. The telegraph, introduced to Egypt in 1854 and Anatolia in 1855, sparked the advent of wire services and international correspondents with quick access to public opinion both domestically and abroad. Previous work has examined the contribution of technological change to the opening of the so-called public sphere. Yet governments, too, sought to harness the information deluge in the service of state-building. This research thus considers how the information regimes of the most powerful and strategically significant states in the Middle East evolved in tandem from the early days of the telegraph through the dissolution of the Ottoman Empire in 1922 and the gradual untangling of Egyptian colonial institutions after nominal independence from Britain that same year. 
Cedric Van Dijck
Cedric Van Dijck works on the literature of the early twentieth century. He was educated at Leuven (BA), Edinburgh (MSc) and Ghent (MA, PhD), with a stint as visiting researcher at Cambridge. In his doctoral thesis, Cedric studied the modernist credentials of military magazines published in the First World War. He has written on Marinetti, Apollinaire and Woolf, and is currently in the early stages of a new project on a very different set of modernist authors—including E.M. Forster and Ezra Pound—who ended up, or failed to end up, in the Middle East. This led him, in his turn, to Cairo.
Feel free to contact Cedric with any questions about his research or publications at cedric.vandijck@ugent.be
Fien de Block
Fien De Block is a PhD fellow of the Flanders Research Foundation (FWO) at the department of Arabic and Islamic studies at Ghent University, Belgium. She holds an MA in Philosophy (2013) and in Arabic and Islamic studies (2015).
Her PhD research concerns the production, circulation and reproduction of astronomical/astrological practices in the 15th century Mamluk Sultanate. More specifically, she studies the way in which the authors and copyists of astrolonomical/astrological texts frame their own practices, thereby drawing disciplinary boundaries. As 'astronomy' and 'astrology' are present day categories that do not exactly fit the classification of the historical actors, she is looking at how the boundaries of the legitimate and the illegitimate within the science of the stars were drawn and redrawn. On a methodological level her research attaches great importance to the materiality of texts. Texts are discursive artefacts – documented statements that come from somewhere and have certain agendas– rather than mere containers of facts. Because of this, she does not only study the main texts but also attaches great importance to peritextual data such as  possession notes and colophons. 
She is currently in Cairo to study the collection of scientific texts from the 15th century Mamlūk Sultanate in the Dār el-Kutub wa-l-wathā'iq al-Qawmiyya.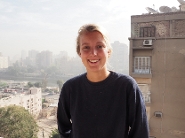 Martha Meijer
I am Martha Meijer, a masters student in Architecture and Urban Design at the faculty of Architecture and Engineering, Ghent University. I am currently writing my masters dissertation in Cairo. The focus is on the area that was developed under Khedive Ismail (1863-1879) and matured in the interwar period, currently known as downtown Cairo.
I am exploring the relationships between the use and appropriation of public space and the physical structure of the city. The broad streets, shared spaces of grand apartment blocks and narrow passageways don't share the same degree of publicness, even though they are all physically accessible to anyone. This difference is defined both by spatial qualities such as dimensions, thresholds and materials as well as by uses such as an outdoor coffeehouse, shopping street, street vending, offices.. The contrast between the formal façades and the diversity of actors housed behind them is a metaphor for the many incongruities found in downtown. Zooming in on the issue of semi-legal rooftop tenants and the status of the rooftop as a liminal and often underused space offers opportunities to propose alternative spatial outcomes of the spatial negotiation between the many actors involved. An outcome that might emphasize the common value rather than the private: a shared garden as opposed to a forest of satellite dishes?
The dissertation will consist of two parts. On the one hand, an overview of downtown Cairo's history, constructed identities and projected futures, thus identifying the main actors influencing the urban development of the area and the diversity of uses and publics found there today. On the other, a proposal for an architectural intervention on a downtown rooftop, aiming to test alternatives to hegemonic capital-driven urban development. This intervention would not aim to make the roof entirely public or private, but rather to create a shared space that can become an integral part of the use and life of the building, including the residents as actors in the buildings development - thus proposing a pilot project for an alternative development of downtown. Parallel to this research is a questioning of the possible position of a (foreign) architect practicing participatory approaches in such a context.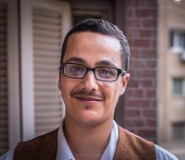 Zakaria El Houbba
Zakaria El Houbba is affiliated with Kalam Research and Media, an academic research institute situated in Dubai, Tripoli and Kuala Lumpur, which is dedicated to academic research, pedagogy, content development and publishing in the fields of Islamic Theology (Kalam), Islamic Philosophy of Science, Scriptural reasoning and Inter-Faith dialogue. As Assistant Editor he oversees KRM's house publications and the John Templeton foundation's initiative of Islamic Analytic Theology. Zakaria is a B.A in Philosophy at Leuven University and Ankara University and has spent several years of formal training with traditional scholars of Islamic sciences in Egypt, Morocco and Mauritania.
His current research envelops the epistemological structures of modern Islamic theology from the nineteenth to the twentieth century. The primary focus is on the collapse of epistemic structures within Islamic thought through the currents and expansions of Modernity as defined in the work of Mostafa Sabri, the last Ottoman shaykh-ul-Islam and Rene Guenon, the involuntary founder of traditionalism and perennialism. Both provided, from completely different yet traditional perspectives, a conceptualisation of the collapse of epistemic structures, their effect on the Muslim psyche as to conceptualise the necessary revival and reconstruction of epistemic structures which is oriented towards a consolidation of Islamic ontology.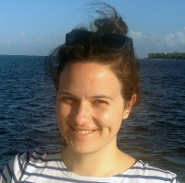 Mary Elston
Mary Elston is a PhD candidate in the Department of Near Eastern Languages and Civilizations at Harvard University. She is in Cairo this year conducting research for her dissertation entitled, "Religion and Science at al-Azhar: An Ethnographic and Historical Study." The dissertation explores the introduction of modern sciences (al-'ulūm al-ḥ adītha) into the Azhari intellectual milieu in the 19th and 20th centuries. Her dissertation research in Cairo is supported by a Frederick Sheldon Travelling Fellowship from Harvard University.
The dissertation takes as its starting point the 1961 reform law under president Gamal Abdul Nasser which claimed to modernize al-Azhar, the oldest and most prestigious institution of learning in the Sunni Muslim world. To date, western scholarship has tended to portray the 1961 reform as a moment of rupture in which al-Azhar was transformed from a traditional Islamic school into a modern university that teaches secular scientific knowledge. Through ethnographic and archival research, the dissertation re-examines this characterization by contextualizing the 1961 law in a longer history of reform that began in 1872, and by exploring the place and nature of scientific inquiry at al-Azhar before and after the 1961 reform. A central question guiding this project is how al-Azhar's scholars have sought to root their pursuit of modern science in the Islamic discursive tradition. 

Through this approach, the dissertation will not only examine the critical question of the relationship of modernity to religion and science, but it will also contribute to a growing body of literature that illuminates the diverse ways in which religious actors and institutions strive to maintain their authority in modern contexts.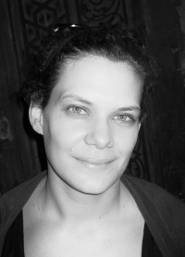 Anny Gaul
Anny is a PhD candidate in Arabic & Islamic Studies at Georgetown University (Washington, DC). She holds an MA from Georgetown and a BA from Yale University. She is a Predissertation Travel Grantee through the American Research Center in Egypt (September 2016) and a CAORC Multi-Country Grantee (October-December 2016).
Her project grounds abstract narratives of anticolonial nationalisms in North Africa in the concrete realm of domestic food production and consumption. Over the first half of the twentieth century, women in Egypt and Morocco increasingly began cooking in modern, urban, domestic kitchens. They learned new culinary techniques through mass media and state curricula and cooked with running water and raised stoves. From their kitchens, the culinary styles now labeled "Moroccan cuisine" and "Egyptian cuisine" emerged, comprising techniques and recipes common to the urban middle classes of each nascent nation. Yet despite overlaps in culinary influences (e.g., sustained contact with French culture and a shared medieval Arab-Islamic elite cuisine), Moroccan and Egyptian cuisines have strikingly little in common today. Bringing together literary and historical approaches to texts about these culinary spaces, this project offers a new comparative account of cultural politics and identity formation in North Africa.
An avid cook and photographer, Anny is as likely to cook her way through her sources as she is to read them. You can find her recipes and kitchen experiments at cookingwithgaul.com
Pavlos Kavouras
Pavlos Kavouras is a professor of cultural anthropology and ethnomusicology at the University of Athens. His research focuses on music and religion with a special emphasis on Sufism.
My affiliation with the Netherlands and Flemish Institute in Cairo as a guest researcher (January 11 to June 15, 2016) was a rich and creative experience.

I was provided with a convenient work space, office support and access to NVIC's library and in return I presented my scholarly research titled Othering: The Oracle of Delphi and the Question of Interpretation within the weekly lecture series of the Institute.

As a scholar specializing in the Humanities and the Social Sciences, I found NVIC's wide variety of academic scope, especially its foci on "The Urban Challenge of Cairo," "The Politics, Law and Society in Egypt" and "The Art & Culture" study areas to be extremely interesting and scholarly stimulating.

I would like to express my gratitude to the staff of NVIC and to Dr. Rudolf de Jong, director of NVIC, in particular for their friendliness and collegiality. I am going to miss you all guys!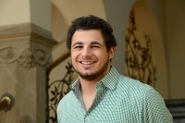 Ilyas Saliba
Ilyas Saliba is a research fellow and a PhD candidate at the Berlin Graduate School for Social Sciences (BGSS) at Humboldt University Berlin. His research has taken him to Tunisia, Morocco and Egypt.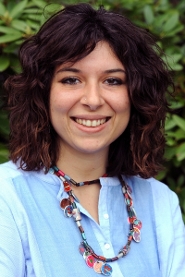 Teresa Pepe
Teresa Pepe is a post-doctoral fellow at the Institute of Culture Studies and Oriental Languages (IKOS) at the University of Oslo, and was provided a work space at the Netherlands-Flemish Institute in Cairo last year. She holds a PhD in Middle Eastern Studies and Literature from the University of Oslo. Her dissertation "Fictionalized Identities in the Egyptian Blogosphere" (2014) explores the literary features of Egyptian auto - fictional blogs written between 2005 and 2011, in light of the events of the 25th January Revolution and of previous autobiographical writings in Arabic Literature . She has published preliminary results of her research in various academic journals.

Her current research project entitled "The adīb and adab – Demise, or metamorphosis, of a key figure and of a key concept of the Arab modernist project?" and explores how the role of writers and intellectuals has evolved during the 20th century in Arabic/Egyptian society.

She contributes to the cultural section of the independent media Mada Masr. She is also the organizer of the research forum "Arab Media Transitions", which analyses the impact of media on Arabic literature and culture from a historical perspective.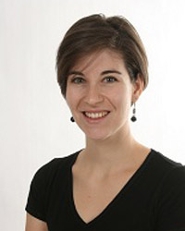 Cristina Dozio
After graduating from the University of Milan (Italy), Cristina joined the PhD programme in Linguistic, Literary and Intercultural Studies at the same University. Her research interests include contemporary Arabic literature - in particular irony and humour in the novel -, satirical journalism and translation studies. Her focus is on Egyptian and Moroccan writers. She co-translated Ala al-Aswani's Automobile Club into Italian (2014) and translated some short stories for collections and magazines.
Lucia Sorbera
Lucia Sorbera is a lecturer in Arabic, Islamic, and Middle East Studies at the University of Sydney, School of Languages and Cultures, Department of Arabic and Islamic Studies. She is specializing in women and gender history, focusing on Egyptian women's political activism. She earned a PhD in Arabic and Islamic Studies at the University Ca' Foscari in Venice (2006), and her thesis on Egyptian Feminism in the 1920s has been awarded the Franca Pieroni Bortolotti Prize by the Italian Society of Women Historians (SIS).
Dr Sorbera is a non-resident fellow of the Research Centre on Gender and Politics at Padua University (Italy), and she serves in a number of academic and editorial boards. She is currently on Special Study Program Leave, and was a visiting researcher at the Nederlands-Vlaams Instituut in Cairo, where she conducted her research on "Writing a feminist history of the 2011 Egyptian uprisings. Ethnography of a continuing revolution".
Gerasimos Tsourapas
Gerasimos Tsourapas is currently a final-year PhD student at the Department of Politics and International Studies at SOAS, University of London. His work focuses on the impact of migration on authoritarian regimes' durability in the Arab world. He received a BA in political science and economics from Yale University and a MSc in international political economy from the London School of Economics. While at NVIC, Gerasimos was also a visiting scholar at the Center for Migration and Refugee Studies at the American University of Cairo.
Meir R. Walters
Meir R. Walters is a doctoral candidate in the Department of Government at Georgetown University. From 2012-2013, he was a Fulbright fellow in Egypt. His work has been published in Perspectives on Politics and the Journal of North African Studies.