Food citizens? Advisory Board Meeting in Gdańsk
In late May 2019, the Food citizens? team traveled to Poland for a project meeting and team outing. This was made possible by the European Research Council's support and facilitated networks and knowledge-generation.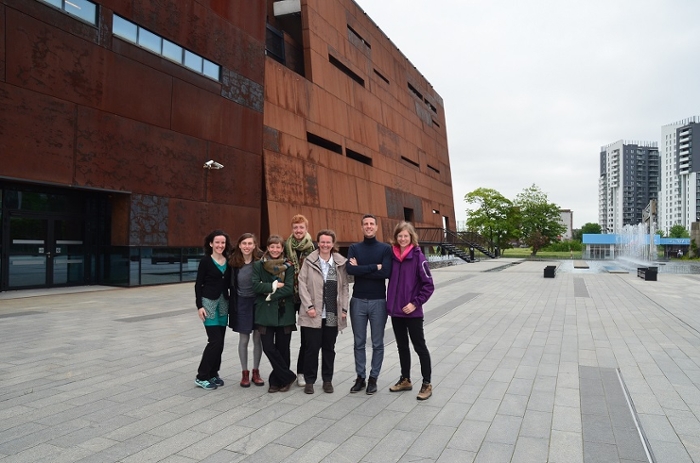 The food citizens meet Gdańsk
By: Robin Smith
The week of May 23, 2019, the Food citizens? team of Leiden University's Institute for Cultural Anthropology and Development Sociology visited Gdańsk, Poland, for our second Advisory Board meeting of the project. We were hosted by the European Solidarity Centre, housed in a gorgeous building that echoes the shipyard around which it is located, which is also the site where civil resistance to socialism unfolded amongst shipyard trade unionists. Meeting participants included our full team from Leiden University (Cristina Grasseni, Federico De Musso, Hanna Stalenhoef, Ola Gracjasz, Maria Vasile, Vincent Walstra, and myself), plus advisory board members and guests: Agata Bachórz, Katarzyna Cwiertka, Jacek Koltan, Grzegorz Piotrowski, Tomasz Rakowski, and Jaro Stacul.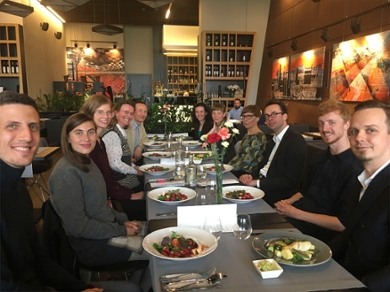 Having read many of their publications over the course of this academic year, it was exciting to have the opportunity to spar and engage with the authors in an informal setting. Many new ideas were generated that will help the PhD researchers on their paths as they embark on fieldwork in Gdańsk, Poland (Ola Gracjasz), Turin, Italy (Maria Vasile), and Rotterdam, the Netherlands (Vincent Walstra). The idea of the visit was to introduce ourselves to one of the project's field sites to begin to conceptualize how our team of researchers might ultimately compare research findings – and what better way to understand a place than to visit it? We met advisory board members, read articles that brought us insights into Gdańsk's history and people in a diversity of ways, had time to be proper tourists, and yeah, ate fantastic meals every day!
Presentations from our Advisory Board members were diverse and engaging, giving us a window into contemporary Poland through the lens of food.
Pursuing culinary careers
Agata Bachórz's presentation – on culinary capital and the trend of middle-class Poles leaving everything for a new career in food-making as a mode of self-discovery and self-actualization – spurred lively discussions about whether such changes constituted a break from the past or rather were part of an evolutionary process. An important insight was that paradox of intense labor required to be in the food industry on a full-time basis, versus the gloss of professionalizing culinary pursuits as part of achieving that elusive good life.
Those who were most enthusiastic about articulating their successes simultaneously bemoaned the alienation from family and friends that comes with running a business requiring you to be focused on serving others at precisely the times of day when one would be with kin, e.g., mealtimes. Leisure had become work, something serious and productive again and thus not too far from the paradigm they had just left. At the same time, this field allows these pseudo-independent foodies to cultivate new cultural capital simultaneously with economic success, bringing into question how alternative this alternative lifestyle actually is.
Art and Anthropology
We were all excited to listen to Tomasz Rakowski's presentation, having read his beautiful ethnography Hunters, gatherers, and practitioners of powerlessness: an ethnography of the degraded in postsocialist Poland (2016, Berghahn Books) earlier this year. We stepped into his field site through his colorful stories about how Polish villagers re-invent farming equipment to create statues that express the ingenuity of marginalized groups and how they are able to express agency in ambivalent positions through engaging in collaborative projects as co-experts with anthropologists. An example of the latter, he showed us how art projects can turn into political ones in the most intriguing ways – like by bringing together female village traditional singers to rewrite song lyrics to express their disappointment with the daily economic hardship they and their families experience due to the poor decisions by politicians.
The meaning of solidarity
A major theme of discussion was the meaning of solidarity – perhaps not surprising, given our surroundings and company, but it certainly was a lively topic to throw around for some hours! Jaro Stacul shared with us his research background in Gdańsk: during fieldwork, he found that the general thought is that Solidarity is a proper noun, given the name of the movement, but began to understand during research that the idea of Solidarity was actually incredibly powerful and surprisingly diverse. As his research progressed, he developed the impression that people from different occupations and social classes understand Solidarity differently. So, he tried to understand Solidarity in the plural, and how some of these different 'solidarities' may or may not dovetail with the Solidarity propagated by different institutions in the past. While he pointed out that this doesn't mean they are mutually exclusive ideas, it is worth looking at the relationship between them. This led us to explore the notion of solidarity in the three field sites of the project, and to be aware of the diverse meanings one term may hold across and between communities.
Our host Jacek Koltan, Deputy Director for Research at the European Solidarity Centre, is a dynamic speaker and engaging guide. He narrated our tour of the Centre's beautiful museum, which immersed everyone in the Solidarity movement with multimedia, printing presses, hardhats along the ceiling, and myriad other 'artefacts' from the period of the beginning of socialism's disintegration. Everyone left excited and energized by the revolutionary feel, and with a profound impression of the historical weight of the place and people.
There was also time for team bonding, learning that indeed, car mechanic knowledge is thankfully vast in the Polish countryside, and that Gdańsk is the secret culinary capital of post-socialist Eastern Europe.
The PhD researchers are now on their way to their field sites to begin a year of field work, returning to Leiden in July 2020. Here's wishing them an interesting journey!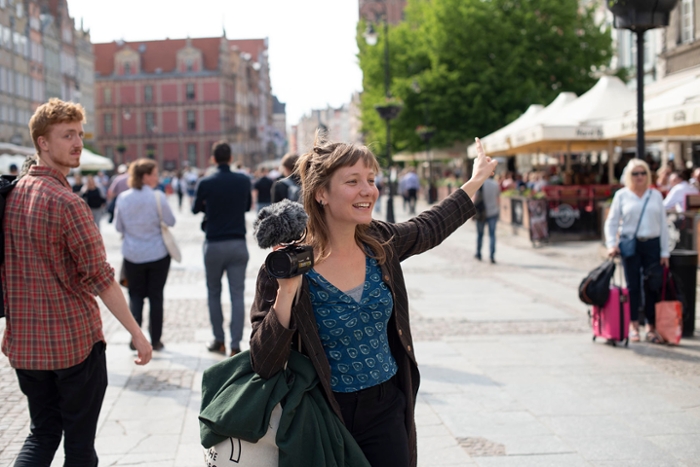 Photo's by: Hanna Stalenhoef