The internet of 100 years ago
Date

Friday 21 June 2019 - Sunday 7 July 2019

Address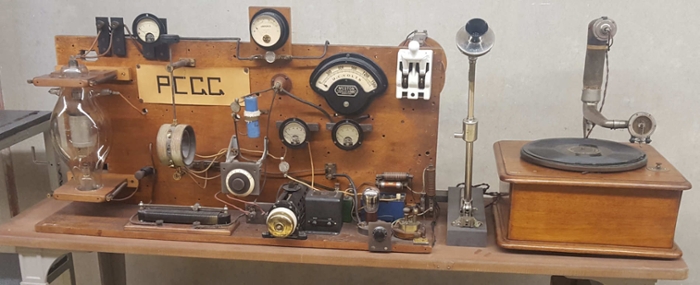 On November 6th 1919, between 8 and 11 'o clock local time, for the first time in the history of mankind a commercial radio broadcast is sent into the air. This took place a mere 15 km from here, at Beukstraat 8, The Hague. The brain behind the first commercial radio broadcast was Hans Idzerda. He built on the success of physicists like James Clerk Maxwell, Heinrich Hertz and Guglielmo Marconi in the preceding decades. In the 100 years since, this almost magical information exchange without wires, straight through stone walls and over the oceans has taken off. A society without this magic is almost inconceivable.
For a couple of weekends we will install an old fashioned radio station at the Old Observatory with which, if the conditions are right, we might reach the East Coast of the U.S.A. This station will be manned by people from the Dutch Society for Experimental Radio Research (VERON). So come by and experience first hand the high-tech of a century ago.
This event is organised in honour of the 100-year existence of the International Astronomical Union. Also visit our "Above and Beyond" exhibition (open on Saturdays & Sundays) to learn how radio waves were used in the discovery that our Milky Way is a rotating disk and experience many other astronomical discoveries of the past century.
Dates VERON radio broadcast (enter via the Hortus) :
Friday 21 June, 19:30-0:00 (Midsummer Night Festival)
Saturday 22 June, 10:00-18:00
Sunday 23 June, 10:00-18:00
Saturday 29 June, 10:00-18:00
Sunday 30 June, 10:00-18:00
Saturday 6 July, 10:00-18:00
Sunday 7 July, 10:00-18:00