Alumna Update: Dalila's journey, approaching challenges through the lens of art and sustainability
We caught wind that Dalila Cataldi won a prize in the Seoul International Meditation Festival Art Exhibition, which is really impressive! Besides being a prize winner, Dalila is also doing a lot of other very cool things: more reasons to catch up! Read about her adventures on exchange in Japan, her Internship at an art museum, her advice to current International Studies students and the selective joint Master Degree "Global Challenges and Sustainable Developments", which she will start later this year.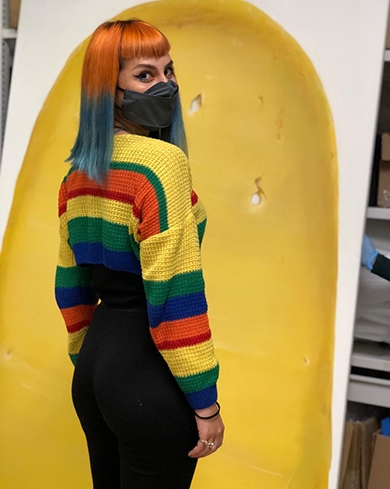 "My name is Dalila, I am 22 and I ​graduated in 2020 from the 2017 class of International Studies. I was born and raised in a small city in the south of Italy, where art and diversity are not as valued and appreciated as I have always thought they should. That, together with my innate thriving curiosity towards new cultures and places led me to choose an academic path focused on the study of languages: I studied English, Spanish and French in high school, then decided to move to The Netherlands and study Japanese as part of the bachelor of International Studies at Leiden University.
My Life changing exchange in Japan
During my third year, I went to Japan for a six months-long study exchange. Needless to say, it was a life-changing and eye-opening experience for me. I have always been fascinated by Japanese art and culture and during my time in Japan I managed to travel around, visititing as many museums as I could. The more I visited them, the more I realised that they had something different from every other museum I visited in Europe until that moment: what struck me was the inextricable connection between art and the environment. I am referring to the connection and the graceful respect towards the beautiful landscape and surroundings natural elements, practiced by the galleries, temples and museums.

Thus, I decided to spend my six months exchange exploring the sustainable aspect of art and museums by studying environmental studies and doing field research. I managed to meet a Japanese architect, Akihisa Hirata, whose works stands out for his optimistic and innovative conception of architecture, centred around sustainability and bringing people together. With the strong conviction that I found my personal niche in the combination of art and environment inspired by alternative conceptions of architecture and beauty coming from the East, I travelled back to The Netherlands, with the intention to write my thesis on those same topics.
2020: making the most out of my first year after graduation
In light of the major challenges 2020 brought us, I consider myself lucky to have still managed to learn and grow, achieving satisfying results. Graduating successfully with high grades and compliments for my BA thesis made me feel that the effort and passion I put into my work had been recognized and appreciated. This ensured me that I was on the right path. During the first lock-down period, I successfully completed an internship in Online Communication at Lisse Art Museum (LAM) and I began volunteering for The Hague Peace Projects. The Hague Peace Projects is a Dutch NGO advocating for peace. There, I quickly became the head of the Social Media department. I am currently also close to the end of my pre-master in Art History at Leiden University. At the moment I am actively looking for a new job opportunity.

Winning the Special recognition award in the Seoul International Meditation Festival Art Exhibition
Also recently, encouraged by Ms. Wencke Appelman, I entered the 2021 Seoul International Meditation Festival Art Exhibition and won The Special Recognition Award. This means that my painting will be featured, along with the other winners, in a virtual exhibition! Furthermore, I am one of the 5 selected students accepted to the innovative MA joint programme "Global Challenges and Sustainable Developments" of the University of Applied Arts, Vienna, and the University of Design Tongji, Shanghai. This double-degree MA programme focuses on how to use artistic strategies and sustainable design/technological innovation to tackle the global challenge of climate change through trans-cultural collaboration. In the words of their programme coordinator: "The main objective of this programme is to provide students with skills and abilities that will help them "provoke the system" by combining artistic and design-oriented thinking with knowledge in other societal areas."

My advice for current International Studies Students
For current International Studies students I have the following advice: take advantage of every opportunity Leiden University will offer to you, do not be afraid and trust your peers. Share your dreams and aspirations and be truthful and authentic when you express them. You can be smart, obtain the highest grades in exams, but without true passion and love for what you do, it is harder to have meaningful experiences. The future for us students, mostly students of Humanities, looks increasingly scarier and the Covid pandemic definitely shrunk the number of possibilities out there for us in an already competitive job market. Nonetheless, there is no one who wants to do what you do, in the same way, with the same means, in the same place or with the same experience. And if you do not know yet what exactly you want to do, well, it's time for you to discover it: participate in Career Events, talk to supervisors, professors, fellow students; live your life and pay attention to what moves you. Because eventually, as a friend in Uganda once told me: "there is no such thing as problems: there are only challenges."

If I think about the incredible opportunities I came across during these years, it still seems hard to believe. Going to Japan was a dream that came true and I know many of my peers felt the same way with their study exchanges in other parts of the world. These are the experiences that will teach you more about life than about any subject or study field. I will forever cherish the education and support I received from Leiden University throughout my BA. Yet, what I value the most is the networking I created and the incredible connections with students and professors from all over the world that have incredibly inspired and encouraged me through my journey.