Leiden students want to learn more about sustainability in their studies
Students at Leiden University believe that their study programmes should pay more attention to sustainability. This is evident from a representative survey of more than 550 students, conducted by Leiden University Green Office .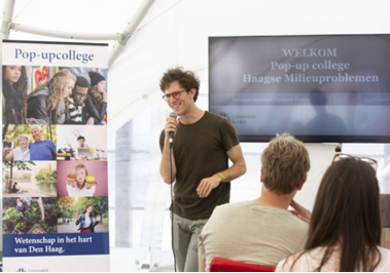 Among other things, the survey asked students how they see the role of the university in incorporating and promoting sustainability. More than three quarters of the students surveyed agree or fully agree that Leiden University should play an active role in this. Students are more often dissatisfied than satisfied with the extent to which the theme of sustainability is reflected in their study programme, but they do indicate that they find it important and would like to learn more about it.
Education for the future
A striking finding is that three quarters of students believe that knowledge and skills related to sustainability will be beneficial in their future careers or lives. According to Soemano Zeijlmans (LUGO), project leader of the study, this statistic well encapsulates the urgency of sustainability in higher education: "The university has a duty to train its students for careers as academics or professionals. In the economy of tomorrow, but also today, knowledge about sustainability is indispensable. If students do not learn this, the university will miss opportunities to remain relevant as a university."
Deeds to words
Students' opinions extend beyond words: many respondents are interested in taking an elective course on sustainability in their study area. This was already apparent from the popularity of a lecture series on sustainability and law at the Faculty of Law. Nevertheless, surveyed students more often prefer another option: paying attention to sustainability throughout existing courses. Zeijlmans: "The advantage of this approach is that students see sustainability in relation to the existing study material. In a lecture on international treaties, for example, students can learn about the Paris climate treaty. In an elective course, however, students can delve deeper into the subject matter."
Fact sheets per faculty, programme and specialisation
On the website of the Green Office, the survey results are summarised per faculty, programme and specialisation. These are made available to students and staff who would like to work on incorporating sustainability into education.