National Sun Watching Day - Online
Date

Sunday 5 July 2020

Time

Explanation

Dutch event

Address

Online event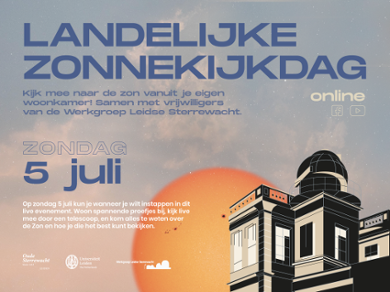 Sun Watchin Day:
(Dutch event)
On July 5th, you can join our live stream at any moment. We offer the possibility to join live observing sessions, during which you can watch the Sun through one of our telescopes, experience exciting experiments showing the workings of light, and learn a lot about the Sun!
The YouTube livestream is set for the event. See this link for the Facebook event.
Remark: even with rainy wheather the event will take place (with a few adjustments)!
Programme:
14:00 - Introduction
14:10 - Watch the Sun through the Lunt telescope
14:25 - 'Werkgroep Leidse Sterrewacht'
14:35 - Experiment 1: spectroscopy and temperature of stars
14:50 - Experiment 2: exoplanets and scattering of light
15:05 - Watch the Sun through the 6-inch telescope
15:20 - Endnotes