Insights: Publishing as a Student
Publishing your student work at a conference or in a journal is a great step towards becoming a researcher, and a great experience. But where to start and what to expect? At this "Insights" event, we discuss the possibilities and share experiences from students who have already published their work.
Thursday Jan 26, 16:15 -18:00h (room opens at 16:00h; small borrel included)
Room 111 of the Gravensteen Building, Pieterskerkhof 6, Leiden
No registration required; just show up to participate.
Intended audience:
Media Technology MSc students and alumni, but others are welcome too.
Organized by:
Pragya Jain (student), Rick Heemskerk (student), Maarten Lamers (staff)
Within the Media Technology MSc program we encourage our students to publish their work. Not only their final theses, but also projects that they may have done within a course. And as our publication list shows, our students are successful in doing so.
Moreover, publishing your work is worth the effort and even great fun. Having a peer-reviewed publication in your name may help to find a future job, such as a PhD position. It shows that you can stand your ground in the scientific arena, that your work has value to other academics, and that you can write.
Plus, presenting your work at an academic conference is a great experience! Sure, it may be nerve-wrecking to go on stage in front of an international audience of researchers. But they are generally very kind, in particular to students. And to meet others over drinks and dinner, to casually discuss the topics of the conference, that is the best rite-of-passage into academia that you can imagine.
That said, how to start is not always clear to students. Or even that it is possible to publish your student works. What should you expect? Where to find calls-for-papers? How to get funding? Can you attend a conference without presenting a paper? What are good ideas and tips, to maximize your experience?
The aim of "Insights: Publishing as a Student" is to inform, encourage and enable our students to submit their works for publication.
What to expect from "Insights: Publishing as a Student":
We introduce the process of publishing your work,
we explain how to find a conference or journal,
students who have already published their work will share their experiences,
staff will explain where to look for funding your conference trip, and
you can ask the questions that you may have.
Most likely we will end with a small borrel (social drinks).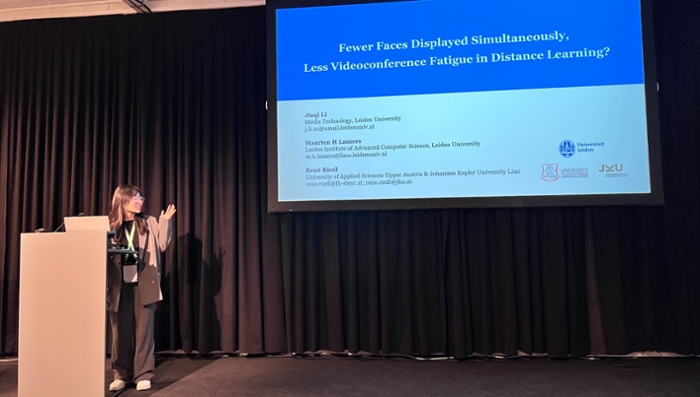 * Photo at top of page: Media Technology student Maik Lanen presenting his work at the EuroVR 2018 conference in London.