Alexandria: the Pearl of the Mediterranean
Sarah van der Kwast
Taking a little trip away from the always exciting yet exhausting Cairo is just what we, 33 hard working students studying at the NVIC needed. This past March, just as we were halfway on our Cairo adventure the institute took us all on a five-day trip to see the Pearl of the Mediterranean; Alexandria, the city that got its name from Alexander the Great himself.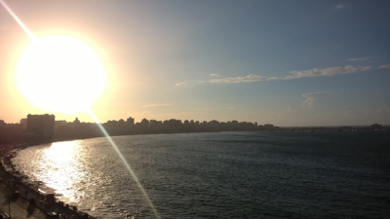 So there we were, 33 students who got up at dawn on a Sunday morning to leave at 7:15 to make our way up north to the sea. The bus took a road which brought us to several monasteries that were built alongside desert roads and contained beautiful paintings, stained glass windows and secret gardens. In the afternoon we arrived in Alexandria and of course the first thing on our minds was food. So we headed to a restaurant overlooking the Mediterranean sea and let me tell you – that is quite something after weeks of crowded areas and nothing but the smell of exhaust gas in the air!
The next few days were a mix of cultural activities, delicious seafood, relaxing at the beach and sightseeing at night (a.k.a. discovering Alexandria's party scene). Also as a group we grew closer to each other, getting to know one another better. If I were to tell you about ALL the things we did and saw and ate and tried, I could write you a book about it. So to make sure things don't get too far out of control, I put together a top-three-must-see for your own visit to Alex:
1. Definitely go see Qait Bay, which is a fortress built right on the shore and gives you an amazing view over the sea. Afterwards go to The Greek Club for some delicious seafood (as a plus: they serve wine there to go with your choice of fish!)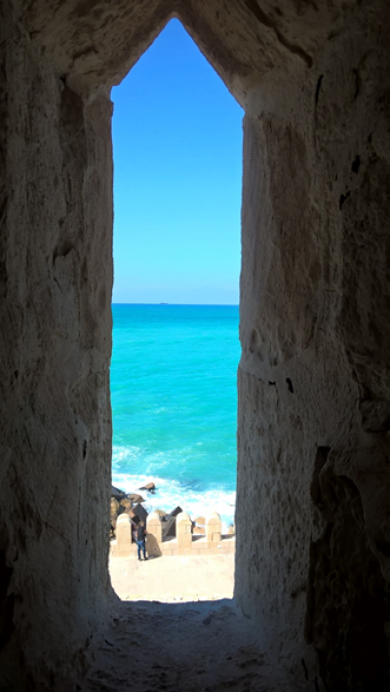 2. Alexandria's library is one of the most amazing buildings I've ever seen in my life. Not only is it an architectural and historical treasure, but also it houses several very interesting museums and, for those (like myself) who always love to plunder gift shops: this one will fulfill all of your craziest gift shop dreams!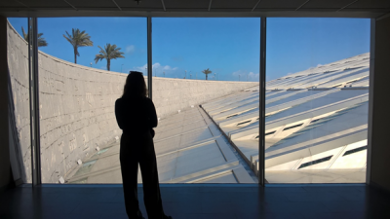 3. If you're into Roman architecture, you cannot visit Alexandria and not see the Colosseum. Go there for all of your emperor's speeches and gladiator fights
As I was asked to write something about our trip in just a few hundred words and I obviously exceeded that limit – it just shows how lovely it was. The greatness of Alexander the Great's Alexandria made me go back there again just a few weeks later and meet the Egyptian friends we've made there several times after our first visit. But even though it was really great, coming home to Cairo just topped it all.