Let's create a Silk Road Virtual Museum
Join Richard Griffiths, founder of the International Studies programme, as he explains his new initiative - to create a virtual museum about the Silk Road, highlighting the material and cultural heritage of this historical network of Eurasian trade routes. Why this subject and what would a virtual museum look like? Professor Griffiths explains what it all entails and how you can contribute as a volunteer.
Suppose that there were a museum that allowed you to revisit the ancient cities of the Silk Road and appreciate their art and culture. Suppose that the museum united artefacts that today are scattered around different locations throughout the world. Suppose that museum had a time machine that allowed you to travel back and forth between different epochs. And suppose that museum was a mouse-click away. With your help, this could all be possible at the Virtual Museum of the Silk Road.
On arrival at the museum, you would be asked to select a journey (overland or maritime), an epoch (1-200CE, 800-1000CE, 1350-1450CE) and a language (initially English and Chinese). Then you would the meet your guide who would give you short audio explanations throughout the tour. The text level is aimed at 18-19 year-olds. She would begin by showing you a map and inviting you to choose a city to start your tour. The next decision that you would need to make is whether to explore some of the main sites in the town or go straight into the museum. The city tour guide would give some background to the place and the main trades, as well as commenting on the city layout and some of the buildings. There is also an excursion office, that will allow you to book a trip to one of the nearby sites.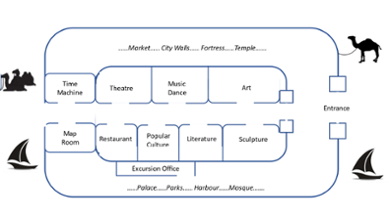 The city museum would start with art and sculpture galleries, but there is more to life than admiring exquisite examples of court or religious art. The virtual museum would have a literature room, where you can hear extracts of stories and poetry in the original language (with subtitles, of course). There would be a theatre for the performance of recent plays and opera as well as a room for typical examples of music and dance. In addition, there would be a room for popular culture – the games that people played or the pass times they enjoyed. All of this is hungry work, so the museum will also have a restaurant, with two classes – fine dining for the merchants, and street food for the porters. We might even be able to have a look into the kitchen. Finally, a standard feature in all museums is a map room, with collection of maps to show how contemporaries viewed the world in which they lived. Obviously, it may not be possible to be so comprehensive for every location – some towns had barely started when we visit them while others were so obliterated, that little evidence of their past remains.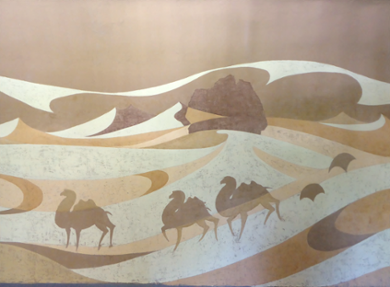 On leaving the city museum there are two alternatives. On can either go through to the start and choose a new town or city on the route, or to go to the time-machine. The Time Machine will take visitors backwards and forwards through time and bring them to another epoch of the same city or near-by city. After the machine picks up energy, you will travel through spirals of red and yellow smoke. The red smoke represents times of war and civil strife. The yellow smoke reflects the sun shining on periods of peace. By pressing a date button, visitors may stop along the way to learn more about what is happening, but they may not get off. Only in the time machine will they stay safe.
The main advantage of an earth-bound museum is that you can get close to the objects… but not too close. The main disadvantage is that the experience is a passive one, led by the logic of the particular museum's collection. There is a lot of literature on the 'museum experience'. It suggests that most 18-19 year-olds' experience a museum either by being dragged around by parents or in a school-visit. The literature agrees that a well-prepared school visit can be a life affirming experience, but of the most part, the memory of a museum visit is of an overload of images and information and sore feet. Most visits in later life are because it is the 'done thing' on a visit to a foreign country (plus a selfie for Infogram or Whatsapp) or to have a 'family event' and reimpose their earlier trauma on their unfortunate offspring. The virtual museum allows the visitor complete ownership of their experience at a time and duration of their choosing. It can be an incentive to learn more (at a later stage there will be 'virtual libraries' of supportive literature as well as a portal on how the knowledge was acquired and preserved.)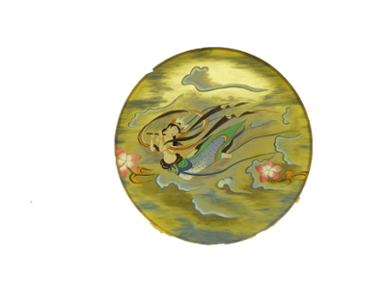 Let me tell you where we stand with the project at the moment. We have identified an initial list of town/cities in each epoch. We have decided to start in the 1350-1450 epoch, in the hope that more materials will be available. We have made a 'walk-through' of the content of one city (Nanjing, for a short time the capital of China and the staring point of the voyages of Admiral Zheng He). Finally, we are investigating the best (easiest and most adaptable) virtual 3D platform onto which to load the materials. What we need are volunteers to identify materials for the different city museums – with a team of 2/3 it should take no more than a day each. We also need people with IT experience willing to develop the design and upload the materials. If you are interested in helping in any way, please contact me at r.t.griffiths@hum.leidenuniv.nl with the header SRVM. Your help will be acknowledged on the 'credits' page seen by everyone on leaving the museum.