Spring Event 2022: Poetry Reading and Clotheswap
Date

Tuesday 10 May 2022

Time

Address

Rapenburg 100
2311 GA Leiden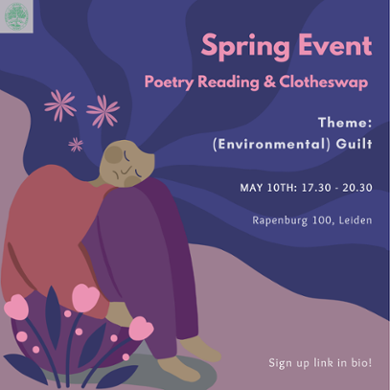 The Leiden University Green Office is pleased to announce the details of its Spring Event, which will consist of a poetry reading and a clotheswap!
The event will take place May 10th at Rapenburg 100, in Leiden, from 17.30-20.30. You can register for the event here.
FREE vegan snacks (by the Green Kitchen), a drink and plenty of tea will be provided!
Poetry Reading and Award Ceremony
The past couple weeks saw LUGO organise its Spring Poetry competition on the theme: Environmental Guilt.
Environmental guilt reflects the dread associated with feeling as though you will never be doing enough to save the planet, and/or that you should be doing more. LUGO saw the relevance in acknowledging the validity of these feelings in its students and staff and providing a space to voice them through poetry. As such, we asked you: What is your relationship to (environmental) Guilt? What is it to be guilty at all?
We received a variety of submissions. To highlight these and award our 1st place prize, we have organised a reading and award ceremony. To attend and support our poets, please register here.
Did you not have time to submit but would like to read a poem on the theme? Email communication@lugo.leidenuniv.nl before the 8th of May to discuss the possibility of doing so.
Clotheswap
LUGO has also organised a clotheswap, to exchange your valued but no longer used clothing for clothing you will use!
How it works:
Find the clothes lying at the back of your closet, still in perfect condition, that you don't wear anymore.
Join us on May 10th and receive a token for each item you give in (maximum of 5 tokens provided).
Exchange your tokens for new items you really love while making someone else happy.
Joining us from the Hague? Optional: Hand in your clothes and receive your tokens for the event a day early (May 9th) at Wijnhaven.
Event Schedule
17.30 Clotheswap opens
Have a drink and a snack and a chat
18.00 Introductory statements
18.30 Individual poetry readings
20.00 1st prize winner announced
Closing statements
20.30 Clotheswap closes
Reminder: The event will take place May 10th at Rapenburg 100, in Leiden, from 17.30-20.30. You can register for the event here.
The Green Office collaborated on this event with: Rapenburg100, the Green Kitchen, the Leiden-Delft-Erasmus Centre for Sustainability and GOSSA.