Farm Excursion: 5 November
Date

Saturday 5 November 2022

Time

Address

Leiden Centraal
Leiden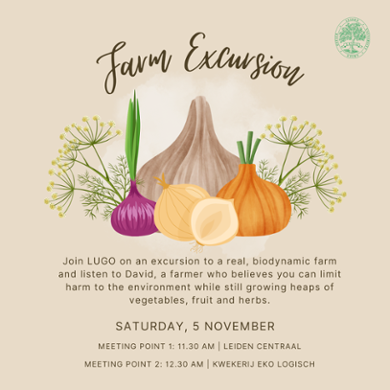 Biodynamics is a holistic, ecological, and ethical approach to farming, gardening, food, and nutrition.
Do you want to know more about biodynamic ways of farming? What challenges farmers face when farming with the environment in mind? How they cope with the political measures of the agricultural sector?
Then join LUGO on an excursion to a real, biodynamic farm and listen to David, a farmer who believes you can limit harm to the environment while still growing heaps of vegetables, fruit and herbs. On the two-hour visit, we will be shown around the farm and maybe even encounter some animals.
LINK TO SIGN UP: HERE
This excursion is a follow-up to our movie night, where we screened a more positive movie on the traditional way of farming in times of climate crisis. Let's see how a farm works in real-life and get to know where and how our food is produced.
Date: Saturday 5th of November
Time: 11:30 am at Leiden Centraal if you want to cycle with the group OR 12:30 am at the farm
Location: Kwekerij Eko Logisch, Floraweg 114b Roelofarendsveen
Since the farmer can only give a tour for a maximum of 15 people the sign-up is on a first-come, first-serve basis. Please make sure you only sign up if you know you can make it and think of the weather as well already while signing up. (Bring a raincoat if it is raining!)
If you have signed up and cannot make it please let us know as early as possible, so we can contact anyone on the waiting list. If you have any questions, please send an email to: c.m.kellermann@umail.leidenuniv.nl
We hope you are enthusiastic to go on an excursion with us and would be happy to see you there. For sign up, please fill out this form until Wednesday, 02.11.2022. Please be aware that the sign up is binding!
​​​​​​​LINK TO SIGN UP: HERE