Sustainability Day 2023: The Planetary Boundaries and Spring Podcast Competition
On May 9th 2023, LUGO hosted its big Sustainability Day Event, on the theme: the planetary boundaries! The event, which took place at the Academy Building in Leiden, included an opening talk by Prof.dr.ing. Jan Willem Erisman, among others. At the closing, LUGO also awarded its first place prize for its Spring Podcast Competition and released its corresponding miniseries: 'Beyond the Safe Space', check it out on Spotify!
The planetary boundaries concept defines the environmental limits within which humanity can safely operate, that is, the Earth System processes that set safe boundaries for human activities. These are now decidedly unsafe: as of April 2022, we crossed six, which has increased the risk of generating large-scale abrupt or irreversible environmental changes (not great).
To raise awareness on the issue, our Sustainability Day tackled these boundaries, one at a time, with a dedicated workshop/talk/activity assigned to each boundary, as well as some extra. The full programme for the day can be found: here.
It took place on May 9th at the Academy Building, in Leiden, from 14.00-18.00. After 18.00 all attendees were invited to join the LUGO team and its volunteers for free drinks and snacks at the Faculty Club Brasserie/Bar. Thank you to everyone who attended, and to our speakers and volunteers!
Photos of the event can be found below, and submissions to the Podcast competition can be found on highlighted here or on the LUGO Press. The full associated miniseries 'Beyond the Safe Space' is on Spotify: here.
The podcast episodes for the miniseries 'Beyond the Safe Space' are on Spotify: here. They're also highlighted here or on the LUGO Press.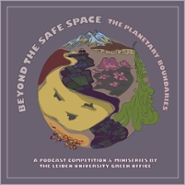 The podcast series was created to give students and staff at Leiden University a platform to creatively explore science communication, as well as raise awareness about each boundary. The guiding question across episodes remains: what could life look like beyond our safe space, and what do we stand to lose?
Some of these episode were additionally part of our Spring Podcast Competition 2023, for which the 1st place winner and honourable mention were: