Visit to Rijksmuseum Boerhaave
Tim Huisman
Amito Haaghuis
Date

Thursday 7 March 2019

Time

Address

2312 WC
Lange St. Agnietenstraat 10
2312 WC Leiden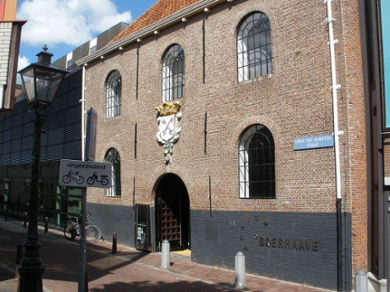 In our series of small-scale meetings, this time curator Tim Huisman, who designed the new Herman Boerhaave en de Gouden Eeuw van de wetenschap exhibition, will give a lecture, followed by a tour of the museum (in one or two groups).
The host is Amito Haaghuis, who succeeded Dirk van Delft as director of the museum.
Following the lecture, ProParte is pleased to invite you to a reception in the museum café, where you will have the opportuity to talk with the speakers.
Costs
Entry is free. Please remembe to bring your Museum pass with you if you have one.
Register
As the maximum number of participants is limited to 30, you do need to register, before 4 March please: proparte.leiden@gmail.com.
Tim Huisman
Tim Huisman is curator at Rijksmuseum Boerhaave. He obtained his doctorate in 2009 on a dissertation on Leiden University's sixteenth-century anatomical theatre. He is responsible for the early medicine collection, the drawings, prints and paintings in the museum. His area of research is the interaction between science and art, focusing particularly on anatomy, physiology and natural history. He has published mainly on seventeenth-century anatomy, anatomical theatres and collections, and the cultural exchange between art and science.
Amito Haarhuis
Driven by his passion to arouse people's enthusiasm for science and technology, Amito Haarhuis, as a teacher of science and technology, an author, television presentor and co-director of NEMO, has devoted his career to science education and communication. He has been director of Rijksmuseum Boerhaave since 1 April 2018.
About our small-scale meetings
With the small-scale meeting, which do not involve any major logistical organisation, the board of ProParte offers its members the oportunity to engage in interesting activities in a smaller group.