Conference and Winter School
Winter School and Conference: Digital Visual Engagements in Anthropological Research (24 January to 4 February 2022)
Winter School: Digital Visual Engagements in Anthropological Research
The winter school builds upon and disseminates the project's methodological toolkit for ethnographic research. This methodology has been developed over the last four years by the project team for studying collective food procurement networks, namely citizens' initiatives involving for example foraging, short food chains and local food governance. The school is aimed at graduate students from the social sciences and humanities who are trained in field research (for example, Masters, Research Masters and 1st year Ph.D. candidates). The goal of the school is to help develop their interests and skills in multimodal anthropology, comparative and collaborative perspectives (including audiovisual methods). Please consult our project's public resources to find out more about the topic and methodology of our research. The school is co-directed by Cristina Grasseni and Federico De Musso.
The winter school aims to train and supervise a maximum of ten participants to plan and execute up to five short research projects over two weeks, working in pairs and using collaborative and audiovisual methods. The Food Citizens? team will teach modules with a special focus on collective and interactive research processes and research ethics, including participant observation, anthropology at home, cultural mapping, ethnographic photography, and video and digital documentary. Previous film-making experience is not required. Understanding and (some) experience of ethnographic fieldwork-based research is a prerequisite. The modules are designed to reflect on hands-on methodologies fostering collaboration among field-researchers. The participants will present their project/artefact at the Food Citizens? Conference on Friday 4th February 2022 which will profile the Food Citizens? project's research outcomes to a broad audience of researchers and stakeholders.
The Winter School Curriculum
A detailed description of the winter school modules and readings you can find here.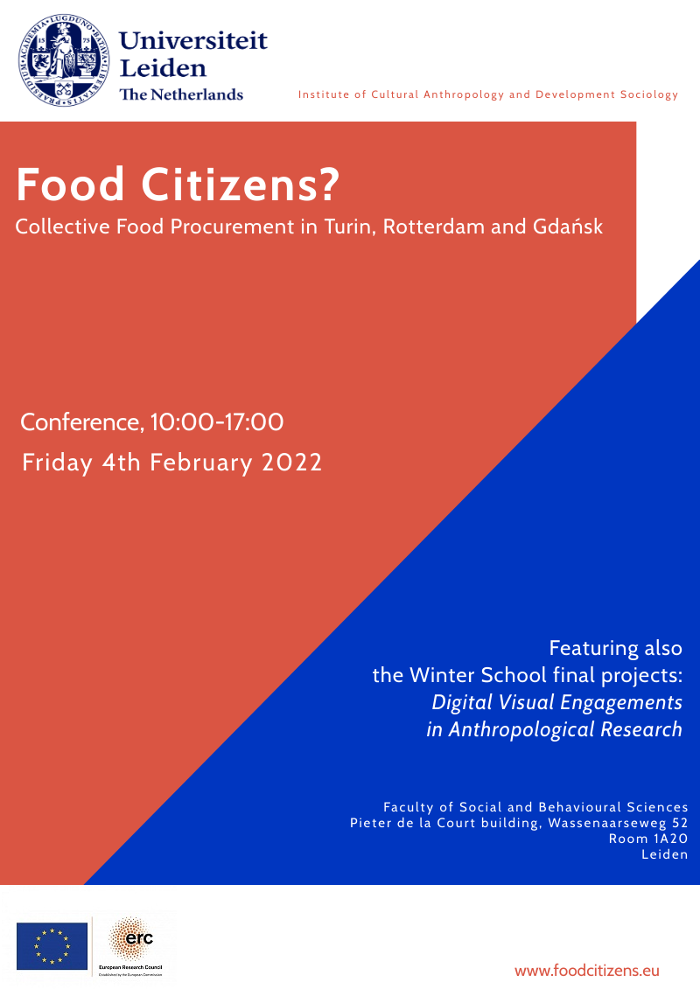 Conference Program
| | |
| --- | --- |
| 9.30-10.00 | Doors open |
| 10.00-11.30 | The Food Citizens? project and field research (Cristina Grasseni, Ola Gracjasz, Maria Vasile and Vincent Walstra) |
| 11.30-12.00 | The Food Citizens? i-doc (Federico De Musso) |
| 12.00-13.00 | Discussion (Discussant: Francesco Ragazzi) |
| 13.00-14.00 | Break |
| 14.00-15.30 | The Food Citizens? Winter School student projects (Federico De Musso and the Winter School students. Discussant: Sander Hölsgens) |
| 15.30-15.45 | Break |
| 15.45-17.00 | Collaboration, Mediation and Comparison: discussion (Discussants: project's advisory board members) |
| 17.00 | Closing |