Faculty Award for Teaching
Research and education are closely interwoven in our faculty. Excellent education is indispensable to successfully translate research findings into high quality educational programmes on the bachelor's and master's level, and of great importance to stimulate and to enthuse students for science.
Nominees for 2018
'Feeling like you truly understand something about physics or the Universe is a wonderful experience. My main goal is sharing that experience.'
'Feeling like you truly understand something about physics or the Universe is a wonderful experience', says Marcel van Daalen. 'My main goal in teaching is sharing that experience as much as I can.' Van Daalen is very motivated to achieve this, and he explores various paths in order to reach all his students: 'Whether it's working through the math, making figures or animations exploring different situations, or linking to other concepts in physics that look similar from the right standpoint.'
Although Van Daalen is a new teacher at Leiden Observatory, his students state that his motivation is the foundation for a bright future in teaching. 'By being enthusiastic about the material myself, it's easier for students to get enthusiastic as well', Van Daalen says. 'It also helps them to keep their attention to the lecture. And if you look at the material from the right angle, it is always possible to be enthusiastic about what you're teaching.'
The question what he would do with the prize money immediately reveals his motivation to help students understand the subjects: 'In the past year I've made some figures and animations to aid in the understanding of difficult concepts. The students found this really valuable, so I would like to push this further by investing in the development of an interactive tool that allows students to better understand how physics influences spectra – which is the core of the course.'
'I like to show students how mathematics is a powerful tool to get a quantitative grip on the way things work.'
'As a teacher, I like to show students the beauty of the laws of nature. In addition, I like to convey how mathematics is a powerful tool to get a quantitative grip on the way things work', says Martin van Exter about his motivation to teach. His vision is that a teacher should always focus on the essentials, conveying a true and deep understanding of the study material. 'An academic teacher shouldn't train students to simply pass the exam, but should rather stimulate them to study in order to truly understand and remember the study material.'
In order to achieve this understanding, Van Exter uses new approaches such as the flipped-classroom style: students prepare their lectures in advance and student-teacher interactions are more intense. 'Many studies into this teaching style have shown that students learn in a more efficient way. They control their own pace, can focus on difficult aspects, and benefit from a vast amount of online contents', Van Exter explains his choice for the flipped-classroom. According to his students, Van Exter does not take anything for granted. 'He evaluates his course on a year-by-year basis to ensure that these modern teaching methods do not interfere with the quality of his course.'
With the prize money, Van Exter would guide and stimulate the teachers and students towards a new, modern way of teaching. 'I would buy a laptop with touchscreen, audio equipment and software to record web lectures. Then, I would share this equipment with colleagues and stimulate them to generate their own contents', he concludes.
'A lecture is more effective if you treat topics from a different angle compared to the written material.'
Peter Bruin's motivation to teach lies in seeing his students gain understanding of the course material. 'I strive to communicate the material in a way that is both effective and enjoyable', he says. 'I like to emphasise the relations between the different topics in a course and to identify recurring themes. It is always a pleasure when students start discovering such connections themselves and want to learn more about them.'
In his courses, Bruin's students aren't the only ones who learn. It is important to keep learning from your experiences as a teacher, Bruin states. 'For example, I have learned that you do not always need to spell out details that students can easily find in books and lecture notes. Instead, a lecture is more effective if you discuss various topics from a different angle than the angle used in the written material.' With this teaching style, he manages to reach his students. For instance, in the evaluation after the course, his students give him feedback such as 'best lecture ever' and 'the best course this semester'.
Bruin would like to use the prize money to develop ways of visualising mathematics in teaching. 'Nowadays, computers and 3D printing allow you to create mathematical objects that you can interact with on a screen or even hold in your hands. I think such visualisations are a wonderful way of motivating students.'
'I like to explore scientific fundamentals and paradigms with the students, which improves all of us as a result.'
Due to the rapidly-evolving nature of computer science, Michael Lew constantly has to update his course material. In Lew's opinion, exploring these new ideas and paradigms is something you ought to do together with students. 'I strongly believe that to really understand a subject, you have to look at it from many diverse viewpoints; students are excellent at contributing to this.'
His students state that Lew always makes room for discussion in projects. 'I think an important characteristic of a teacher is the ability to engage your students in all aspects of the course, such as lectures, workshops and homework', Lew says. He thinks learning does not merely involve receiving and discussing new ideas, but also critically reviewing assignments and explanations. 'This results in highly engaged students, who do not only learn from their teacher and the textbook, but also from the questions and answers from other students. The latter aids their learning process and also trains the students to think scientifically.'
If Lew wins the award for teaching, he will invest the prize money in visualization hardware, such as augmented and virtual reality devices and 3D real time sensors. 'This hardware can spark the enthusiasm of students and deepen their understanding of artificial intelligence and machine learning.'
'Besides being knowledgeable and providing structure, it is even more important to be able to inspire your audience.'
Edgar Blokhuis finds his motivation to teach in students showing a genuine scientific interest. 'Students who have a thirst for knowledge, a zest for deep understanding, even when the topic is outside the subject of the class', he says. Most likely, the interest of these students is a result of Blokhuis' didactic skills. 'I think it is important to be knowledgeable and to be able to provide structure to the subject that you teach, but perhaps it is even more important to be able to inspire your audience.'
In addition to inspiring his students, Blokhuis also aims to engage them. In his course, the teaches the more mathematical and physical aspects of the life sciences and chemistry. Not the most appealing subjects for most of his students. 'It is therefore important for me to show that formulas are not just a seemingly random collection of Greek symbols, but that they have physical meaning and help to understand and describe real phenomena that students may come across in their careers.' His students confirm this: 'He manages to make a difficult topic engaging.'
If Blokhuis would win the €2500, he would not spend it on educational purposes. 'I think the Faculty gladly provides financial support for all our ideas, so it seems somewhat redundant to spend it for education. I would rather use this money to celebrate all nominated teachers or even all teachers of the Faculty.'
'The satisfaction I get every time that a student has understood a difficult concept and the sparkles I see in their eyes, that's part of my motivation to teach.'
For Isabelle Kohler, teaching is all about empathy. 'I think that the best way to give tailored lectures is being able to understand or feel what students experience, as well as care about their needs.' Her vision is that content is important, but not as important as being able to transfer this content in an efficient way. 'Being empathic while teaching also goes beyond simply giving lectures or supervising students during internships – it is also about mentoring students on their future steps in their careers, making sure they have all the information available to take the best decisions for them and their career.'
Students prize her for her inspiring courses and enthusiastic style of teaching. Her lectures are interactive, and often discussions arise between the students. In addition, Kohler expands the scope of her courses, by inviting several experts from various fields to give a guest lecture – something her students greatly value.
But what exactly drives Kohler to be this inspiring teacher? 'The enthusiasm of the students. The trust they put in me. The way they thank me when I manage to inspire them or help them in taking an important decision. The laughs we regularly have together – in a classroom or during coffee breaks. And their faithful presence during my lectures – would it be on Monday at 9.00 or a Friday at 17.00', she laughs.
'It makes my day if students express their wonder about an experimental observation during lab-work.'
For Joost van den Brink, the most important motivation to teach is to see the students grow in their knowledge, skills, and maturity. 'When students start their study, they are eager to learn', says Van den Brink. 'During their second and third year, I really enjoy seeing them become highly motivated researchers, skilled lab-workers, and passionate biologists.' According to his students, Van den Brink plays a major role in their development. 'Joost has an interactive way of teaching, he combines theory with practice. Thanks to this approach we gain important lab skills, forming the base for our study-years to come.'
In order to stay up-to-date with recent developments, Van den Brink is motivated to keep innovating his courses. 'For instance, biology students need to know the latest molecular techniques, such as CRISPR/Cas, or how to make use of large amounts of genomic data', he says. In addition, Van den Brink introduced the interactive online tool LabBuddy in his courses. His students state that this makes them better prepared for the practicals, while they also gain a better knowledge of the theory than traditional teaching methods could convey.
Furthermore, Van den Brink is also involved in the elective course 'Science of Cooking', in which he unravels the physics, chemistry and biology behind cooking. 'Together with the students, I like to understand the processes behind fermentative food and beverages. This course is not only stimulating for students, but also provides learning opportunities for the teachers.'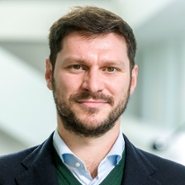 'Sharing knowledge through teaching is one of the most exhilarating and energizing activities that an academic can engage in.'
'I enjoy teaching, and I firmly believe that sharing knowledge through teaching is one of the most exhilarating and energizing activities that an academic can engage in', says Stefano Cucurachi. On top of sharing knowledge himself, he also encourages students to communicate their findings to a broad non-expert audience. With this comes an extra advantage: 'Distilling one of the learned subjects of the course to the layman provides the ideal test to check whether students really have absorbed the course material.'
Furthermore, teaching is not only about sharing. Cucurachi states that being a teacher also improves the research capabilities of an individual. 'It opens up new avenues of research, and provides new insights into existing knowledge.' Cucurachi also enjoys the dynamics and the serendipity of teaching. 'I enjoy stimulating an interactive conversation with students, and I find that at times in-class debates and interactions take unexpected turns, and highlight aspects that I had overlooked. It is exactly such interactive environment that motivates me.'
Cucurachi aims to equip students with the skills to design solutions to problems that are embedded in complex socio-ecological systems. 'To accomplish this goal, I typically use real world environmental problems to motivate the learning of quantitative sustainability methods, and real world data to help students applying these methods in the context of real world problems.'
Our students play a key role in this election: student members of the educational committees nominate their favorite teacher. The chairs of our study associations and the assessor from the Faculty Board form the jury and decide who will be awarded the Faculty Award for Teaching. Nominations are assessed on the following three criteria:
Didactic skills.

The ways in which the teacher establishes connections between the course and recent developments in relevant fields of research.

The ways in which the educator teaches from a multidisciplinary perspective and connects his/her own research field with other fields.