Breda (NL)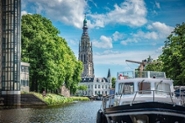 Details
As climate change imposes challenges such as extreme weathers (e.g., heat, droughts and excessive rainfalls), biodiversity reduction and more across the globe, it is also affecting the livability of our city. In particular, the urban and rural environment quality that is closely related to the wellbeing of our citizens, is under heavy pressure. Being the city manager, the municipality of Breda is urged to take immediate and effective mitigation measures to adapt and even reverse the trend.
By 2030, Breda aims to become the first city in the Netherlands to join the family of National Park Cities and the first European city within a park. To realize this ambition, Green space is one of the prioritized solutions.
For example, we are now:
Replacing hard pavements within newly developed and historic areas with green infrastructures;

Initiating various participation programs to raise citizens' awareness and involve them in the process of achieving this goal;

Cooperating with universities to adopt cutting-edge technologies and collaborating with partner cities from other countries to learn from each other's practices.
As the public partner in the CAS-NWO MultiGreen Project, the City of Breda will:
be one of the case study cities to provide data and expertise on spatial planning, water management and climate resilience constructions to our researching partners;

act as the living lab to test the designed GI planning and evaluation tool - MultiGreen, assisting with its creation and contributing to further modification and optimization.
We look forward to making constructive and unique contributions to this influential research project and learning from the top scholars from China and the Netherlands.
Worth mentioning, climate resilience is as well one of the three themes that Breda is cooperating with our Chinese Sister City - Yangzhou. We believe the outcome of this high-profile Sino-Dutch research project and the insights gained from the Chinese case city, Xiamen, are also beneficial for our international collaboration program with Yangzhou.