Irvince Auguiste honoured with the "Community Service Award"
On November 16th, former Kalinago chief Irvince Auguiste was honoured by the University of the West Indies (UWI) Open Campus Dominica with the "Community Service Award". The award was presented to Irvince during the Fourth Annual UWI Alumni & Friends Dinner & Dance.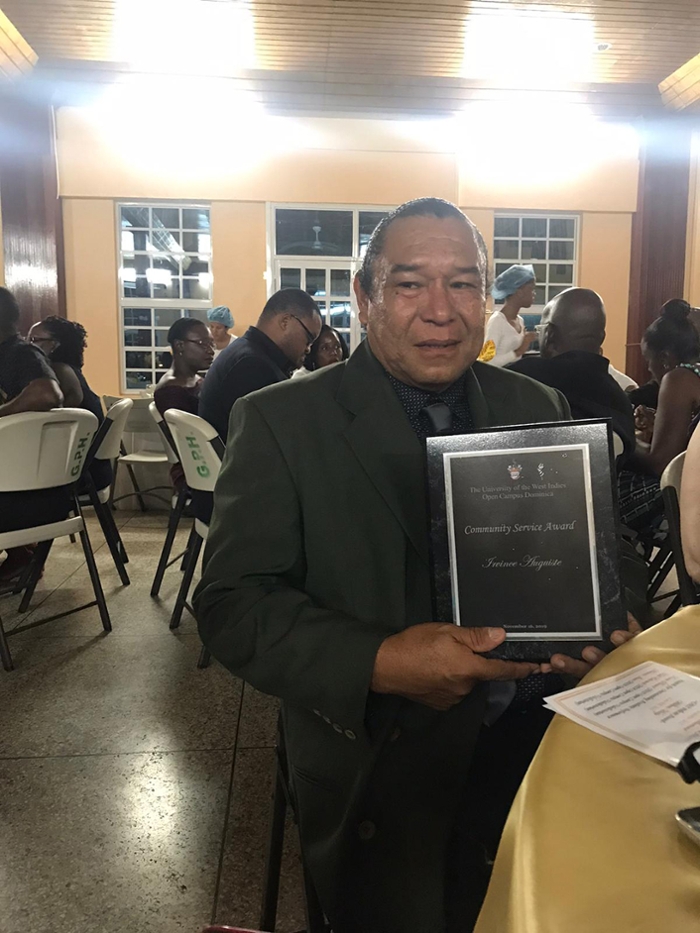 Official Citations
Mr. Irvince Auguiste is the Manager of Nature's Indigenous Adventures Inc., a family-operated community homestay tourism company. For over forty years, Auguiste has served as a community activist. He served as Kalinago Chief from 1984 to 1994. Chief Auguiste earned his Certificate in Climate Change and Sustainable Development in Tourism from UWI Open Campus in 2019. He also holds a Certificate in Agricultural Studies from Mirebeau Agricultural Training School in Grenada.
Chief Auguiste has been involved in numerous community projects in the Kalinago Territory. He served on the Kalinago Council for many years. He has also worked as part of Farmer's Groups, Disaster Preparedness Committees and the Karifuna Cultural Group.
Chief Auguiste has also served on several national and regional Boards. These include the Dominica Banana Marketing Cooperation, National Development Foundation of Dominica and the Dominica Social Investment Fund. He has also served as Coordinator for the Caribbean Organization of Indigenous Peoples and as Chair of the Community Projects as part of the Dominica Rural Enterprise Project.
Currently, Chief Auguiste is the President of the Touna Village Heritage Development Agency and the Vice President of the Caribbean Amerindian Development Organization.
Chief Auguiste is committed to education and the development of scholarship and research, particularly in matters of heritage studies. He regularly attends and participates in scholarly Conferences. Also, he serves as Representative Mentor of University of Winnipeg's International Indigenous programme in Dominica, and his family hosts that institution's research scholars each year. He also assists researchers and scholars from the Archeology Department of the University of Leiden and was actively involved in the Exhibition of Nexus 1492 on Island at Fort Shirley earlier this year.
Chief Auguiste was honoured with the award due to his dedication to community service and 'yes-can-do' attitude whenever UWI needed his help. This has made him a stellar example of the kind of person UWI would like their current students to emulate, and therefore the UWI Open Campus Dominica awarded Mr. Irvince Augusite with the Community Service Award for 2019.