A Site In The Mangroves – Anse Trabaud, Martinique 2015
The site of Anse trabaud is located in Sainte Anne, in the south of the island of Martinique. The site is situated in, what is now, a mangrove area right near the coast and a salt pan. The site was discovered in 1976 by Henry Petitjean Roget and José Cruxent. Several researches studied the site and the area but it was not until 2001, when ceramics recovered from the site were studied, that an estimation of the period of habitation could be made. The ceramics were congruent with ceramics from the Troumassoid and the Suazoid series, estimated to date from AD 850 to 1450. The site itself is very interesting, especially because of the location of its occupation. The area is very arid, and due to its proximity to the coast as well as the salinity of the soil, fresh water resources were most likely scarce. The salinity of the soil would have made it difficult to practice agriculture on the site as well; overall little is known about how food was provided by communities living in the area.
Research around Anse Trabaud
The site of Anse Trabaud falls into two different cultural periods, namely Troumassoid and Suazoid, as ceramics belonging to both series were retrieved at the site. The location of Anse Trabaud on the island as well as its position in the Lesser Antillean island chain, is an interesting subject regarding studies of inter- and intra- island exchange and trade. Looking at the general trend of heterogenization that can be observed in the Lesser Antilles from AD 600 onwards, it is interesting to see how the site of Anse Trabaud fits into this.
In 2012 and 2015, a team of researchers from Leiden University conducted field campaigns at the site of Anse Trabaud under supervision of Prof. dr. Corinne L. Hofman and Prof. dr. Menno L.P. Hoogland. Several students from Leiden will use the data collected from the excavations for their MA-thesis and PhD dissertation topics. One student's research topic focuses on studying the faunal remains in order to discern the subsistence strategies concerning the consumption of meat and fish. The results of this study will be compared to other faunal studies executed on other islands of the Lesser and Greater Antillean island chain, to discern similarities of differences within subsistence strategies, and placing the data from Anse Trabaud in a larger context. Another student's MA-topic focuses on starch analysis performed on different types of artefacts, such as grinding stones, coral and shell tools. This research provides insight into the consumption of various types of plant food, such as manioc, sweet potato, and maize. Other studies include ceramic technology, and site patterning and geomorphology.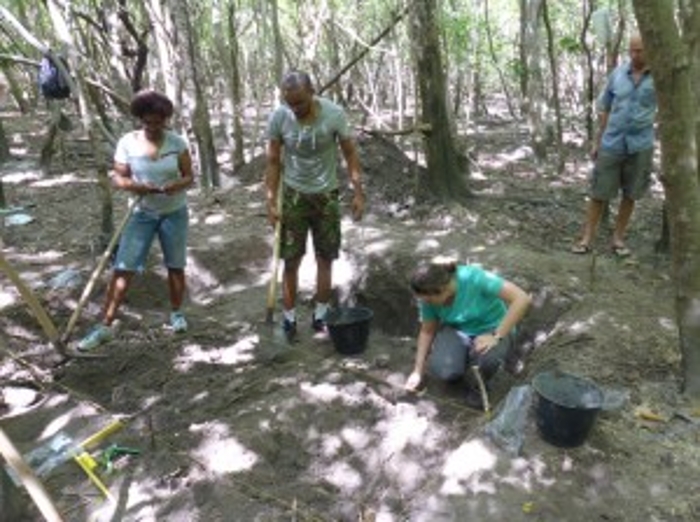 Impression of Students from Martinique who participated in 2015's campaign
"We are Gabriel, Boris, Jordan, and Nicholas, and we are first year History students at the Université des Antilles et de la Guyane. From the 20th to the 28th of January we have participated in the excavations on the site of Anse Trabaud at Sainte-Anne in Martinique, under the direction of Prof. Corinne Hofman. We have done several tasks during the internship, we've helped excavate and fill the pits, cleaned the archaeological material that we have found, separated, sorted and recorded the materials (animal bones, shells, crabs, ceramics and stones). Every day there were new surprises and a new awareness of our island thanks to this adventure, which has been rich in excursions to for example the Ecomusée de Riviere-Pilote, Habitation Clément, Savane des Pétrifications and the mangrove of Anse Trabaud. For Boris, Gabriel and Jordan it has been an enriching intellectual experience, but for Nicholas, who wants to become an archaeologist it has been an opportunity to get acquainted with the profession and what it entails. With an introduction into the Dutch language in the friendly environment we have had a nice time, rich in experiences and discoveries."
By Liliane de Veth