From Golden Rock to Historic Gem: A Historical Archaeological Analysis of the Maritime Cultural Landscape of St. Eustatius, Dutch Caribbean
Date

Thursday 21 March 2019

Time

Address

Academie Gebouw
Rapenburg 73
2311GJ Leiden
About the dissertation
On Thursday the 21st of March Ruud Stelten will defend his PhD dissertation! This dissertation considers the following:
St. Eustatius, a small island in the northeastern Lesser Antilles, was one of the busiest ports in the eighteenth-century Atlantic World. Contested between the Dutch, French, and English, the island attracted thousands of ships a year and became one of the most cosmopolitan places in the New World. Moreover, the island played an important role in the American War of Independence (1775-1783), during which large quantities of arms, ammunition, and gunpowder were shipped to the fledgling United States through St. Eustatius.
Relics of this turbulent past are found all over the island and in its surrounding waters. These include warehouses in the historic port district, fortifications all around the island, sugar plantations in the countryside, and a variety of underwater archaeological sites such as shipwrecks, anchorage areas, and docks.
Through extensive archaeological and documentary research, this study aims to provide a detailed analysis of the maritime cultural landscape of St. Eustatius over the past four centuries. It focuses on bridging the gap between the marine and terrestrial worlds and demonstrates that in order to truly make sense of the complex interactions, events, and processes that shaped this maritime world, both land and sea need to be studied in relation to each other.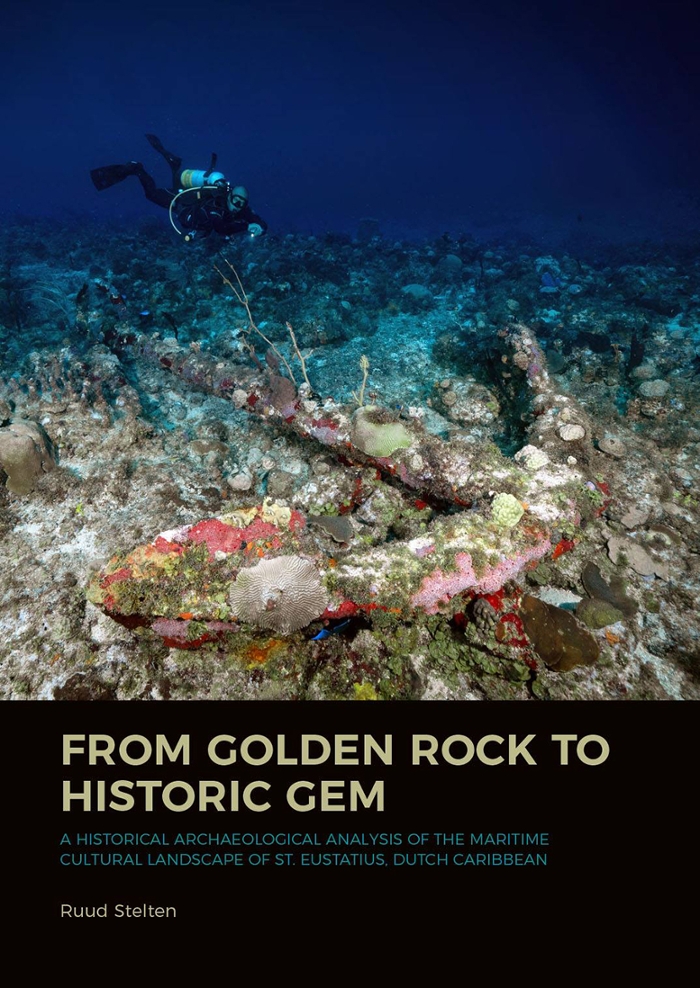 Ruud Stelten
Ruud Stelten (Roermond, 1986) completed BA and MA degrees in Archaeology at the Faculty of Archaeology, Leiden University in 2009 and 2010 respectively. Research for his theses focused on maritime archaeology on the Dutch Caribbean island St. Eustatius, where he also worked on his first Caribbean archaeological research projects under the direction of the St. Eustatius Center for Archaeological Research (SECAR).
During and after completing his studies, Ruud was employed as an archaeologist at Grontmij archaeology in the Netherlands, where he worked on numerous commercial archaeological projects dealing with remains from every major period in northwestern European history. In late 2011, Ruud became the island archaeologist of St. Eustatius, a position he held for two years. During this time, he managed SECAR, conducted various commercial archaeological projects, organized several student field schools, and was involved in public outreach.
Recognizing the need for sharing archaeological research with the general public, Ruud founded Terramar Museum on Bonaire, an archaeological museum displaying the story of 7,000 years of Caribbean history. The museum opened in August 2016, and Ruud took on the position of director for the first year of the museum's existence.
As a specialist in Caribbean maritime archaeology, Ruud was hired to carry out various commercial underwater archaeological projects throughout 2017 and 2018. This prompted him to establish his own organization dedicated to maritime archaeological research: The Shipwreck Survey.
He now organizes multiple underwater archaeological field schools, research projects, and expeditions every year on St. Eustatius and other locations around the world.
Stelten, Ruud
2015 An Emporium for All the World: Commercial Archaeology in Lower Town, St. Eustatius. In Managing our Past into the Future: archaeological heritage management in the Dutch Caribbean, edited by C.L. Hofman and J. Haviser. Sidestone Press.
Stelten, Ruud
2015 Archaeology on St. Eustatius: heritage management of an 18th-century slave village at Schotsenhoek plantation. In Managing our Past into the Future: archaeological heritage management in the Dutch Caribbean, edited by C.L. Hofman and J. Haviser. Sidestone Press.
Stelten, Ruud
2010 Relics of a Forgotten Colony: The Guns of St. Eustatius. Journal of the Ordnance Society, No. 22.