First SAILS Professor appointed
We are very honoured to announce that on the 1st July Bart Custers has been appointed Professor of Law and Data Science and has thus become the first Professor in the new 'stimuleringsprogramma' SAILS.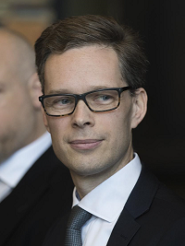 Bart Custers has a background in both law and physics and is an expert in the area of law and digital technologies, including topics like profiling, big data, privacy, discrimination, cybercrime, technology in policing and artificial intelligence. He is a seasoned researcher and project manager who acquired and executed research for the European Commission, NWO (the National Research Council in the Netherlands), the Dutch national government, local government agencies, large corporations and SMEs.
Until 2016 he was the head of the research department on Crime, Law enforcement and Sanctions of the scientific research center (WODC) of the ministry of security and justice in the Netherlands. Before that, he worked for the national government as a senior policy advisor for consecutive ministers of justice (2009-2013) and for a large consultancy firm as a senior management consultant on information strategies (2005-2009).
We hope to announce later this year the names of the other 6 full professors who will be appointed in the SAILS programme; the full job descriptions are available on the vacancy site of Leiden University or click here.