Collaboration
Our AI researchers work closely with other institutions such as Delft University of Technology and Erasmus University.
As a result, an AI ecosystem has developed in South Holland around the themes of
Security, peace and law
Ports and logistics
Energy and sustainability
Health, pharma and healthcare
Technological industry
Scientists working with AI within these themes feed our computer scientists with new questions and challenges. This means both scientific and societal breakthroughs with and in AI are made much more rapidly in South Holland.
LUMC en Philips [article in Dutch] will increase the use of artificial intelligence in health care. Doctors will soon be able to automatically request an AI-driven analysis of scan images.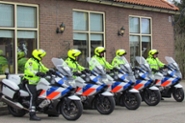 eLaw and the Design for Values Institute of Delft University of Technology helped the Dutch police develop a long-term strategy for the responsible use of AI.
People who stutter don't do so when whispering. The Whispp start-up is developing an app allowing people to whisper when on the phone, while their interlocutor hears their regular voice. Willemijn Heeren, from the Leiden University Centre for Linguistics, was involved in the project.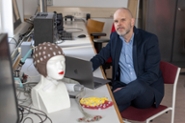 For substantial progress to be made, AI and people have to learn to understand each other better. To help with this, Leiden University is working with TNO, for example on improving language comprehension in AI systems. In 2020, Stephan Raaijmakers was appointed Professor by Special Appointment from TNO.
At Tata Steel in IJmuiden, Professor of Natural Computing Thomas Bäck uses natural computing to improve the production process of steel.