Agata Szczepańska
Agata is a Public International Law Master's student at Leiden University.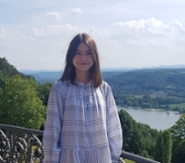 Agata holds a Master's degree in Law from University of Lodz (Poland) where she defended a thesis on environmental law issues related to the Arctic's offshore oil industry, specifically a potential pollution incident from a drilling rig. She represented Poland in the 2019 Philip C. Jessup International Law Moot Court Competition addressing state responsibility for corporate environmental degradation.
Agata joined LAPP because she would like to explore other challenges to preserving marine biodiversity and develop more of a multidisciplinary perspective on marine pollution. Her research for LAPP focuses on international and regional framework concerning plastic pollution from fisheries.