Launch of Pick Up 10 by Plastic Soup Surfer
Merijn Tinga, the Plastic Soup Surfer, launched the Pick Up 10 campaign. This campaign, supported by Google and National Geographic, uses photo recognition to identify and monitor litter through an app.
By picking up and taking a picture, each item of litter will be included in a database, including the brand and location. Using the app is fun for the user: for each item you will get points. It inspires to pick up more – at least 10 a day! – while contributing to the goal of mapping litter. This can be used to hold companies accountable for the packaging they use.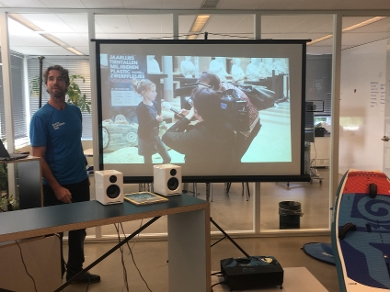 Merijn referred to work of LAPP on responsibility of packaging and soft drink companies for plastic pollution. In the next weeks the Plastic Soup Surfer will hand out another 10 bailiffs to supermarkets and packaging companies to attaining responsibility for the pollution that is caused by their products. Anyone can contribute to this campaign: go to www.pickup10.org and take a pic every time you pick up trash!