Do you want to know the best reasons to study at Leiden University or want to know what's it like to live in the student cities Leiden or The Hague? Our students tell you why they chose Leiden University to study their master's programme.
Our students about Leiden University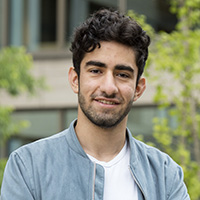 Akif Ayelev
"I find Leiden University to be very liberating. It's a place where you're free to express your opinion and are expected to be open to other people's opinion. Everybody who attends ultimately wants to make the world a better place with future jobs they're aiming for."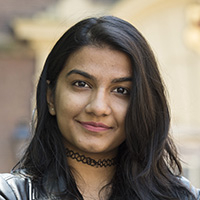 Dhwani Goel
"Within the Netherlands, Leiden seemed to be the best university for my course. Leiden University is in the top 100 in the world in leading international rankings. Also, I liked the fact that the campus was in The Hague, a city full of international organisations and NGOs."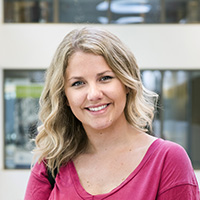 Brittany Bowie
"I felt right at home at Leiden University. I'm now president of the International Studies Student Association, which creates a platform for international students and alumni to network. I know a lot of friends through this association."
Why Leiden University
Leiden University is the oldest university in the Netherlands and enjoys an excellent reputation built up over more than four centuries.

World-class university: For many years among the top 100 universities in 3 prominent international rankings

With no fewer than 75 challenging master's programmes and 200 specialisations on offer, you are bound to find the perfect match

Leiden University offers you a truly international experience with almost 4.000 international students and 120 nationalities

A leading European research university with notable alumni including Albert Einstein, King Willem-Alexander and 16 Nobel laureates

Leiden and The Hague are real fun student cities, centrally located in the lively heart of the Netherlands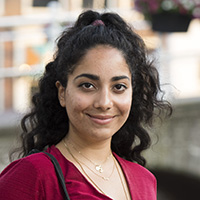 Ishana Durante-Bose
"The university offers a lot of support, for example through its international officers and the study coordinators. They know what they're doing. My coordinator is very approachable and super helpful. I have the feeling that I can always reach out if I have a problem."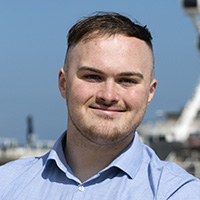 Jared Gustafson
"I was pretty impressed by the professors. In the first semester there was a course on water management by a US professor from California. I would definitely say that this is a big plus: they have all these professors with a background in the field they teach, bringing invaluable experience with them."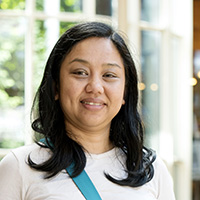 Melissa Ahkir
"There's so much to do in The Hague. It's truly an international city with institutions like the International Criminal Court, people from all sorts of backgrounds, different foods that you can experience in different parts of town, and all kinds of festivals and events."
Discover the student life in our cities Leiden and The Hague