Meet alumni Ella Keijzer and Job de Reus
What started as a student project in the Media Technology program, became a successful internationally operating company offering therapeutic virtual bike rides. Meet alumni Ella Keijzer and Job de Reus, founders and owners of Bike Labyrinth.
Truly global
Before the small Den Haag based company Bike Labyrinth was featured by the New York Times and BBC World, it was already successful in one particular market: therapeutic interactive virtual rides, anywhere in the world, for exercise bikes. With 600 filmed bike routes through cities and nature parks worldwide, there is plenty to choose from already. But within each ride also, the user can choose their own route, by turning left or right at intersections.
It is well-known that moving and exercising is healthy, for both body and mind. But stimulating people with dementia or patients in need of medical rehabilitation to exercise is not always easy. Biking through nature or a recognized neighbourhood is fun, and can bring to life long-lost memories. Studies have shown that Bike Labyrinth increases patients' motivation to exercise.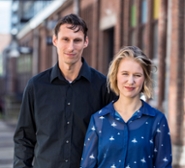 Staying true to the Media Technology spirit
Bike Labyrinth was founded by Ella Keijzer and Job de Reus, two alumni of the Media Technology MSc program. Together with a third fellow student, they created an interactive bike-ride simulator for an assignment in one of our courses. Their project aimed to question free will, really.
After receiving interest from a nursing and treatment centre in Leiden, Ella and Job started to see the potential of their idea and founded their company. But what makes their product successful is the scientific approach they take. Bike Labyrinth is not about technology, but about therapy, social interaction and human well-being. True to their academic training, they remain scrupulous and investigative to improve their products.
How does Bike Labyrinth reflect the Media Technology program's vision?
It is the scientific approach that Job and Ella use to improve their product. Scrutiny, research, and a good understanding of its therapeutic context is what made Bike Labyrinth the globally leading company in its field.
Before joining the Media Technology program, Ella Keijzer obtained a BSc in Cognitive Artificial Intelligence, and Job de Reus a BSc in ICT Studies.
Want to read more?