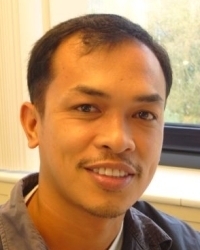 W.J. Saliling
Promovendus / gast
Naam

W.J. Saliling MA

Telefoon

E-mail
Voor meer informatie, zie de Engelse versie.
Promovendus / gast
Wiskunde en Natuurwetenschappen
Centrum voor Milieuwetenschappen Leiden
CML/Conservation Biology
Saliling W.J.B. (2009), Water and nutrient resources in the Northern Sierra Madre uplands: a survey on farmers' perception under cloud of uncertainties., University of Southern Mindanao Research & Development Journal 17(1): 9-23.
Groot W.T. de, Romero M.R., Mangabat C.B., Hobbes M., Snelder D.J.R.M., Saliling W.J.B. & Villegas K. (2009), Upland Farming in Perspective, An essay on motivations and the role of government.. In: Persoon G.A., Masipiqueña A.B., Ploeg J. van der, Masipiqueña M.D., Weerd M. van (Red.) Crossing Boundries: celebrating 20 years of environmental research in Cagayan Valley and Sierra Madre. Cabagan: CVPED. 117-125.
Saliling W.J.B., Groot W.T. de & Snelder D.J.R.M. (2009), Responses of upland farmers in northenr Sierra Madre to rising fuel and fertilizer cost under climatic uncertainties.. In: Masipiqueña A.B., Weerd M. van, Udto R.G. (Red.) Changing Landscapes. Proceedings of the sixth international conference on environment and development.. Manilla: CVPED. 51-72.
Geen relevante nevenwerkzaamheden