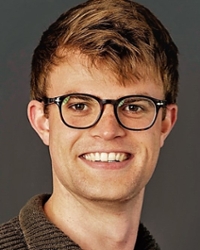 Max van Haastrecht
Promovendus
Naam

M.A.N. van Haastrecht MSc

Telefoon

E-mail

ORCID iD
Max van Haastrecht is promovendus Cybersecurity aan het Leiden Institute for Advanced Computer Science (LIACS). Hij studeerde Econometrie aan de Rijksuniversiteit Groningen (RUG), waar hij zich specialiseerde in Operations Research. Daarna werkte hij 1,5 jaar in het bedrijfsleven als data-analist voor fraudedetectie. Voor zijn huidige periode bij LIACS heeft hij de eerste periode van zijn promotie aan de Universiteit Utrecht doorgebracht.
Zijn onderzoek richt zich op het meetbaar maken van cybersecurity bij het midden- en kleinbedrijf (MKB). Verbetering van de cyberveiligheid van het MKB is het kerndoel van het Europese Horizon 2020 project GEIGER waarbij hij actief betrokken is. Momenteel leidt hij het validatiewerkpakket van het project.
Naast zijn onderzoek houdt hij erg van lesgeven en het begeleiden van studenten, en is hij altijd op zoek om zijn vaardigheden in dit domein te verbeteren. Buiten zijn werk speelt en coacht hij graag hockey, en helpt hij in zijn buurthuis door een computercursus voor beginners te geven.
Promovendus
Wiskunde en Natuurwetenschappen
Leiden Inst of Advanced Computer Science
Werkadres
Snellius
Niels Bohrweg 1
2333 CA Leiden
Contact
Ferguson R., Khosravi H., Kovanović V., Viberg O., Aggarwal A., Brinkhuis M.J.S., Buckingham Shum S., Chen L., Drachsler H., Guerrero V.A., Hanses M., Hayward C., Hicks B., Jivet I., Kitto K, Kizilcec R., Lodge J.M., Manly C.A., Matz R.L., Meaney M.J., Ochoa X., Schuetze B.A., Spruit M.R., Haastrecht M.A.N. van, Leeuwen A. van, Rijn L. van, Tsai Y.S., Weidlich J., Williamson K. & Yan V.X. (2023), Aligning the goals of learning analytics with its research scholarship: an open peer commentary approach, Journal of Learning Analytics 10(2): 14-50.
Haastrecht M.A.N. van, Brinkhuis M.J.S., Wools S. & Spruit M.R. (2023), VAST: a practical validation framework for e-assessment solutions, Information Systems and E-Business Management : .
Haastrecht M.A.N. van, Brinkhuis M.J.S., Peichl J., Remmele B. & Spruit M. (2023), Embracing trustworthiness and authenticity in the validation of learning analytics systems. In: Proceedings of the 13th International Learning Analytics and Knowledge Conference. New York, NY, USA: Association for Computing Machinery (ACM). 552-558.
Haastrecht M.A.N. van, Golpur G., Tzismadia G., Kab R., Priboi C, David D., Răcătăian A., Baumgartner L., Fricker S., Ruiz J.F., Armas E., Brinkhuis M. & Spruit M.R. (2021), A shared cyber threat intelligence solution for SMEs, Electronics 10(23): 2913.
Smit T., Haastrecht M.A.N. van & Spruit M.R. (2021), The effect of countermeasure readability on security intentions, Journal of Cybersecurity and Privacy 1(4): 675-704.
Haastrecht M. van, Ozkan B.Y., Brinkhuis M. & Spruit M. (2021), Respite for SMEs: A systematic review of socio-technical cybersecurity metrics, Applied Sciences 11(15): 6909.
Haastrecht M. van, Sarhan I., Yigit Ozkan B., Brinkhuis M. & Spruit M. (2021), SYMBALS: A Systematic Review Methodology Blending Active Learning and Snowballing, Frontiers in Research Metrics and Analytics 6: 685591.
Haastrecht M., Sarhan I., Shojaifar A., Baumgartner L., Mallouli W. & Spruit M. (2021), A threat-based cybersecurity risk assessment approach addressing SME needs. In: ARES 2021: The 16th International Conference on Availability, Reliability and Security.: Association for Computing Machinery (ACM). 158.
Geen relevante nevenwerkzaamheden