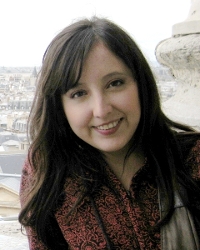 Heather Andrews Mancilla
Promovendus / gast
Naam

H.E. Andrews Mancilla MSc

E-mail
Heather Andrews Mancilla heeft zowel een Bachelor of Science degree als een Master of Science degree in Sterrenkunde van de Pontificia Universidad Católica de Chile. Zij is momenteel een promovendus bij de onderzoeksgroep Interstellar Matter and Star Formation van de Sterrewacht Leiden.
Promovendus / gast
Wiskunde en Natuurwetenschappen
Sterrewacht
Sterrewacht
Werkadres
Oortgebouw
Niels Bohrweg 2
2333 CA Leiden
Contact
Andrews Mancilla H.E., Candian A. & Tielens A.G.G.M. (2016), Hydrogenation and dehydrogenation of interstellar PAHs: Spectral characteristics and H_2 formation, Astronomy & Astrophysics 595(A23): 1-27.
Andrews H, Barrientos L, López S, Lira P, Padilla N, Gilbank D, Lacerna I, Maureira M, Ellingson E, Gladders M & Yee H (2013), Galaxy Clusters in the Line of Sight to Background Quasars. III. Multi-object Spectroscopy, Astrophysical Journal 774: 40.
Videla L, Lira P, Andrews H, Alonso-Herrero A, Alexander D & Ward M (2013), Nuclear Infrared Spectral Energy Distribution of Type II Active Galactic Nuclei, Astrophysical Journal, Supplement 204: 23.
Geen relevante nevenwerkzaamheden