World Dance Day
Op vrijdagavond 3 mei en zaterdag 4 mei organiseren Tribes Leiden en het LAK de World Dance Day. Dit jaar heeft deze speciale dag het thema 'vrijheid'. Er is beperkte beschikbaarheid voor de workshops, dus geef je op tijd op.
prijzen
Workshop (1,5 uur) - 15 euro studenten / 18 euro overigen*
Masterclass (2 uur) - 20 euro studenten / 25 euro overigen*
*5e workshop is gratis; mail in dat geval je 5e keuze naar info@lakcursussen.nl
FREE your DIVA
3 mei van 19:00-20:30
The fierce and feminine side of hiphop, incorporating a blend of vogue, wacking, and lots of attitude. The workshop will also focus on choreography, stage presence and high energy performance. Bring heels - read more
Improvisation / Composition
3 mei van 20:00-21:30
Find your freedom in movements. Experiment with your own movement style and get inspired by others. Be in the moment and you will be surprised about what can happen - read more
MC Contact Improvisation
4 mei van 10:00-12:00
Two people move together, in contact, maintaining spontaneous physical dialogue through kinaesthetic sensual signals of shared weight and common or counterpoised momentum - read more.
Urban Contemporary
4 mei van 10:00-11:30
Freedom and Surrender in Dance
Return to Roots
4 mei van 12:00-13:30
Nubian and Egyptian rhythms are earthy, grounded, full of vitality, drawing power from ancestral roots. This workshop uses the Hilal Dance technique, which reflects the holistic nature of dance - read more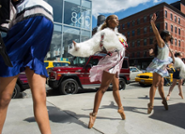 Hiplet: Breaking Boundaries
4 mei van 12:15-13:45
Hiplet is a newly recognized dance style that fuses ballet (en pointe) with hip hop. The workshop can be done with or without pointe shoes - read more
MC Batsheva repertoire
4 mei van 14:00-16:00
In this workshop we will learn a piece of the iconic choreography 'Echad Mi Yodea' by Batsheva Dance Company, choreographed by Israeli choreographer Ohad Naharin - read more
CanCan Jazz
4 mei van 14:00-15:30
Immerse yourself in twirling skirts and petticoats, high kicks, (jazz) splits and cartwheels! The Cancan is high-energy, physically demanding dance that became a popular music hall dance in the 1840s - read more
90's Hiphop
4 mei van 16:00-17:30
This workshop brings back memories and mementos from the golden era of hiphop. Dance to your favourite artists from the 90's and learn a smashing choreography - read more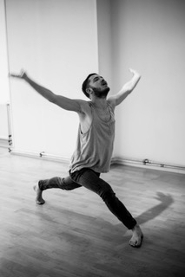 MC Freedom in Expression
4 mei van 16:00-18:00
Get ready to sweat! In this workshop we focus on your inner drive to dance and the expression that pops out when you let got of your thoughts - read more