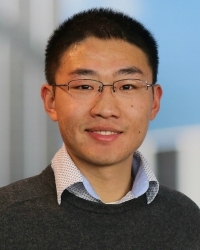 Yingji Pan
PhD candidate / guest
Name

Y. Pan MSc

Telephone

E-mail

ORCID iD
Professional Experience
Yingji Pan received his B.S. (2013) and M.S. ( 2016) with a major in Ecology, under the supervision of Professor Liangjun Da and Dr. Kun Song, from the East China Normal University (ECNU) at Shanghai, China. The focus of his study lies in the relationship between macrophyte traits and their habitat conditions applying methods such as RLQ and Fourth-Corner analysis. During the period of his Master study, he was granted a full scholarship from ECNU to study abroad at Colorado State University, USA for six months under the supervision of Professor David J. Cooper. Based on the works in Colorado, he formed his Master degree dissertation discussing the wetland plant community assembly and its effect on groundwater purification in the Greeley area. From September 2016, He has joined Institute of Environmental Sciences (CML) under the supervision of Professor Peter van Bodegom and Dr. Ellen Cieraad to pursue his doctoral degree.
Research Topic
Plant functional traits relate to the responses of plants to environmental factors, indicating plants' adaptation and eco-evolutionary selection mechanisms as well as their impact on ecosystem functions. Over the past decades, traits-based approaches and functional diversity, i.e. the expression of multiple traits within a community, have been gained much attention. But most of the studies on these topics have primarily focused on purely terrestrial ecosystems. Wetlands have not received much attention within this debate.
Yingji's research focuses on the application of trait-based method to wetland plants community and ecosystem function. He is now exploring a wetland plants database to understand the wetland plants' adaptation strategy as well as their impact on the ecosystem function. This PhD research project will give an insight on the relationship of wetland plant functional diversity on two perspectives: (a) the relationship between functional traits and the adaptation and competition strategies of wetland plant species; (b) Identify the important functional traits that sustain the key ecosystem functioning of wetlands.
PhD candidate / guest
Wiskunde en Natuurwetenschappen
Centrum voor Milieuwetenschappen Leiden
CML/Environmental Biology
Work address
Van Steenis
Einsteinweg 2
2333 CC Leiden
Room number A3.09
Contact
Postdoc
Wiskunde en Natuurwetenschappen
Centrum voor Milieuwetenschappen Leiden
CML/Environmental Biology
Work address
Van Steenis
Einsteinweg 2
2333 CC Leiden
Room number A3.09
Contact