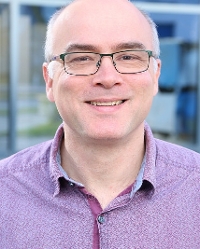 Wouter Kool
Information Manager
Name

Drs. W. Kool

Telephone

E-mail

ORCID iD
Wouter Kool is Information Manager at the Faculty of Archaeology and the Faculty of Governance and Global Affairs. He fulfills the roles of IT contact person, IT Coordinator and Education and Privacy Officer.
Office days
Monday, Tuesday, Thursday, Friday.
Curriculum vitae
After studying Classics in Leiden, Wouter worked in IT-related positions in the publishing industry. More recently, he worked in the library sector and Digital Heritage. At the Koninklijke Bibliotheek he was an information analyst for projects such as the Staten-Generaal Digitaal and the Metamorfoze programme. He has published in professional media on Digital Preservation, file formats and metadata.
Information Manager
Faculty Governance and Global Affairs
Faculteitsbureau
Work address
Wijnhaven
Turfmarkt 99
2511 DP The Hague
Contact