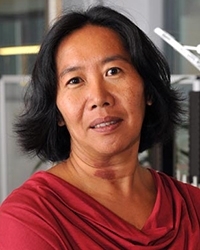 Suzy Sirks-Bong
Executive Dean
Name

Drs. M.H. Sirks-Bong MSc BA

Telephone

E-mail
Suzy Sirks-Bong is Holder of the operational management portfolio of the faculty board. Support of the operational management portfolio is done by Efy Matulessy.
Office days
Faculty of Archaeology
Monday
Wednesday (not in the office, but attainable by mail or phone)
Friday
Faculty of Humanities (until January 2020)
Tuesday
Thursday
Curriculum vitae
Suzy Sirks studied Sinology and Law in Leiden and Business studies in Rotterdam. Since 2000 she has worked in different positions at Delft University of Technology, most recently as faculteitssecretaris at the Faculty of Mechanical, Maritime and Materials Engineering (3mE).
Executive Dean
Faculty of Humanities
Faculteitsbureau
Faculteitsbestuur
Work address
Johan Huizinga
Doelensteeg 16
2311 VL Leiden
Room number 2.20
Contact
No relevant ancillary activities