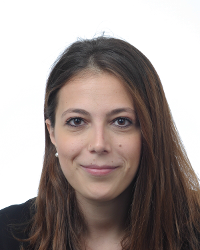 Sofia Poulopoulou
PhD candidate
Name

S. Poulopoulou

Telephone

E-mail
Sofia Poulopoulou is a PhD Candidate at the Kalshoven-Gieskes Forum on International Humanitarian Law, which is part of the Grotius Centre for International Legal Studies.
More information about Sofia Poulopoulou
Sofia joined the Kalshoven-Gieskes Forum in February 2016, where she has been working as a researcher and project coordinator. In addition, she has been supervising the projects of the International Humanitarian Law Clinic of the Forum.
Sofia pursued her Bachelor's degree in Law at the Democritus University of Thrace in Greece. She obtained her Master's degree in International Law at Maastricht University and conducted part of her degree at the University of York in Canada as part of an exchange programme. Upon completion of her studies, Sofia did an internship at the Office of the Prosecutor at the International Criminal Court as well as at the Coalition for the International Criminal Court in The Hague and Brussels office.
Title research: Towards the establishment of a new International Humanitarian Law implementation mechanism: lessons from the Human Rights compliance system transferable to International Humanitarian Law.
Sofia's PhD research under the supervision of Prof. Nico Schrijver and Assoc. Prof. Dr. Robert Heinsch focuses on mechanisms for compliance with International Humanitarian Law with a particular focus on the human rights compliance system.
PhD candidate
Faculteit Rechtsgeleerdheid
Instituut voor Publiekrecht
Grotius Centre for Intern Legal Studies
No relevant ancillary activities