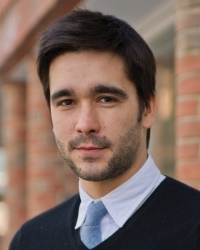 Simon Chauchard
Assistant Professor
Name

Dr. S.P.A. Chauchard

Telephone

E-mail
Simon Chauchard is an Assistant Professor of Political Science at Leiden University.
Simon Chauchard is an Assistant Professor of Political Science at Leiden University. He previously held positions at Dartmouth College and Columbia University (SIPA).
Dr. Chauchard is generally interested in the comparative politics of developing countries (with a focus on India). His research covers voting behaviour, political representation and politicians-citizens relations in India. His works have appeared in Political Opinion Quarterly, the American Political Science Review, Comparative Political Studies, the Journal of Politics and Asian Survey, among other research outlets. He has also frequently published research-based columns in major Indian news outlets. His book, titled Why Representation Matters: The Meaning of Ethnic Quotas in Rural India (Cambridge University Press, 2017), combines qualitative work and a series of innovative surveys to explore the impact of caste-based reservation policies on everyday intergroup relations in India's villages.
Ongoing projects rely on qualitative, quantitative and experimental methodologies and cover a variety of themes relevant to contemporary Indian politics, and beyond, to political processes in the world's democracies. Dr Chauchard's research currently focuses on three main themes:
Party organisation and 'political work'. In a series of co-authored projects in Mumbai and Bihar (with Hanmant Wanole and Neelan Sircar, respectively), he identifies the actors of electoral brokerage networks in India, details the strategies these actors engage in and reflects on the nature of 'political work' in the country.
Political uses of social media and misinformation. As part of a Facebook Research-funded effort, he explores the prevalence of misinformation online, strategies to reduce misinformation or correct it, and the uses that parties make of social media (mainly WhatsApp) in India.
Gender, Identity and Elite Capture. In another co-authored project (with Rachel Brulé and Alyssa Heinze), Dr. Chauchard explores limitations to the political influence of elected officials from disadvantaged groups in India's rural institutions, and the dynamics that lead to the capture of this influence by more powerful local actors.
› Curriculum vitae Simon Chauchard
PhD supervision
Simon Chauchard is available to supervise PhD students and invites PhD candidates to send research proposals in the areas of:
Comparative politics of developing countries
Elections, campaigns and representation
Indian politics
See more information on PhD positions:
Assistant Professor
Faculteit der Sociale Wetenschappen
Instituut Politieke Wetenschap
Work address
Wijnhaven
Turfmarkt 99
2511 DP The Hague
Room number 6.07
Contact
Chauchard S.P.A., Klasnja M. & Harish S.P. (2019), Getting Rich Too Fast? Experimental Evidence on Voters' Reactions to Politicians' Wealth Accumulation in India, Journal of Politics 81(4): 1197-1209.
Chauchard S. & Sircar N. (2019), Dilemmas and Challenges of Citizen Information Campaigns: Lessons from a Failed Experiment in India. In: Thad Dunning, Guy Grossman, Susan D. Hyde, Craig McIntosh, Gareth Nellis (Eds.) Information, Accountability, and Cumulative Learning: Lessons from Metaketa I. Cambridge: Cambridge University press. 287-311.
Dunning T., Grossman G., Humphreys M., Hyde S.B., McIntosh C., Nellis G., Adida C.L., Arias E., Bicalho C., Boas T.C., Buntaine M.T., Chauchard S.P.A., Chowdhury A., Gottlieb J., Hidalgo F.D., Holmlund M., Jablonski R., Kramon E., Larreguy H., Lierl M., Marshall J., McClendon G., Melo M.M., Nielson D., Pickering P., Platas M.R., Querubín P., Raffler P. & Sircar N. (2019), Voter Information Campaigns and Political Accountability: Cumulative Findings From a Preregistered Meta-analysis of Coordinated Trials, Science Advances 5(7): e2612.
No relevant ancillary activities