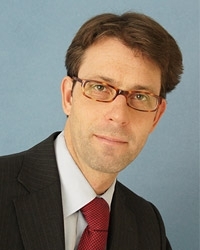 Sierd J. Schaafsma
Professor of Private International Law
Name

Prof.mr. S.J. Schaafsma

Telephone

E-mail
Sierd .J. Schaafsma has been a full professor at the Institute of Private Law since 1 November 2012.
Sierd J. Schaafsma (1969) has been a full professor of Private International Law at the University of Leiden since November 2012. He combines this professorship with his position as a Justice at the Court of Appeal in The Hague, Civil law Department, intellectual property law.
Previously, Schaafsma was a lawyer and a staff member of the Research Office of the Supreme Court of the Netherlands. In 2009, he obtained his doctorate cum laude at the University of Leiden with his dissertation entitled, 'Intellectual Property in the Conflict of Laws; the hidden conflict-of-law rule in the principle of national treatment'.
Schaafsma is, inter alia, a member of the Netherlands Standing Government Committee on Private International Law, a member of the international committee on Intellectual Property and Private International Law of the International Law Association, a board member of the Royal Netherlands Society of International Law and an editor of Netherlands journal of intellectual property law 'Intellectuele Eigendom en Reclamerecht'.
Professor of Private International Law
Faculteit Rechtsgeleerdheid
Instituut voor Privaatrecht
Civiel recht
senior raadsheer
rechter-plaatsvervanger
Member of the Committee on Intellectual Property and Private International Law
Lid redactie tijdschrift Intellectuele Eigendom & Reclamerecht (IER)
lid redactie tijdschrift Nederlands Internationaal Privaatrecht (NIPR)
docent