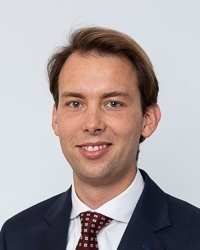 Ruben de Graaff
Guest
Name

Mr. R. de Graaff

Telephone

E-mail

ORCID iD
Background
De Graaff studied European Law (LL.M. 2013) and Private Law (LL.M. 2013) at Leiden University. He did internships at the Dutch Permanent Representation to the Council of Europe (2010) and at the Dutch law firm Pels Rijcken & Droogleever Fortuijn (2011). He also worked as a research assistant at the Institute for Private Law (2011-2013).
He is working as a PhD candidate and lecturer at the Institute for Private Law since 1 August 2013. In 2017 he was a visiting research fellow at the Ludwig Maximilians Universität in Munich, Germany.
Research
De Graaff is interested in the Europeanisation of private law. He analyses the influence of the ECHR and of the law of the EU on the national system of private law. He also examines how private law contributes to the protection of the interests recognized under European law.
His dissertation concerns the topic of concurrence in European private law. The reason is that the Union legislature has increasingly paid attention to the private enforcement of EU law. Several remedies are now harmonized on the European level. This raises the question how these remedies relate to each other, and how they influence the scope of application of national remedies. May the rules be applied simultaneously or should one of the regimes be excluded in favor of the other?
He received several prizes for his research. Together with Elsemieke Daalder, he won the publication prize of the Dutch Association for Civil Law (VBR), for their research into the historical development of the preliminary reference procedure. The Dutch Association of Jurists (NJV) awarded the biannual publication prize to his article about the contribution of the standards of reasonableness and fairness to the protection of fundamental rights.
Teaching
De Graaff has taught a number of courses, both on LL.B. and on LL.M. level.
Together with Alex Geert Castermans he started the Leiden Law Clinic. The aim is to help partners by examining legal questions and by gathering and organizing factual information. In 2017, the students helped setting up a legal course for asylum seekers: Know Your Rights.
Ancillary Activities
De Graaff was an editor at the Dutch legal publisher Ars Aequi (2013-2016). He edited a book about judicial lawmaking by the Dutch Supreme Court.
Together with Sjoerd Bakker, he contributes to a commentary on tort law. He is a member of the working group on European law of the Dutch section of the International Commission of Jurists (NJCM).