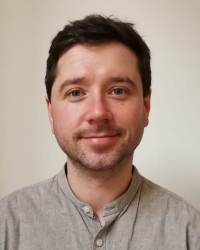 Neil Loughlin
Lecturer
Name

Dr. N.L. Loughlin

Telephone

E-mail
Neil Loughlin is a lecturer at the Institute of Political Science.
Dr Neil Loughlin is a scholar of comparative politics and development, with an emphasis on Southeast Asia. He specialises in the study of authoritarian political systems and is particularly interested in the impact of China's rise on regime and development trajectories in the region.
At Leiden, Neil teaches the bachelor's capstone course 'Politics and Development in Southeast Asia'. He is also a postdoctoral fellow in political science at the Royal Leiden Institute of Southeast Asian and Caribbean Studies (KITLV).
Neil is currently pursuing two projects. He is finalising his book: The Politics of Coercion: State and Regime Making in Cambodia since 1979. Neil's book utilises methodologies from comparative analysis and sits within the traditions of critical historical-sociology and political economy, to explain Cambodia's durable authoritarianism. The book shows how contentious politics shapes institutional trajectories in authoritarian regimes, rather than institutions being mere tools of dictators to selectively repress dissenters or co-opt supporters. In the process the book explores key questions in the study of authoritarian politics such as the (changing) role and influence of pseudo-democratic institutions, elite coalition building, international linkages, and patterns of political violence, contestation, and repression. Specifically using process tracing, network mapping, and other case analysis tools, Neil unpicks Cambodia's post conflict development and concurrent reintegration into global capitalism and compares successive phases of the country's conflict and post-conflict reconstruction since the inception of the current regime in 1979. The project is based on more than 18 months in-country fieldwork and variety of Khmer and English language documentation, interviews, surveys, and open data sources.
Neil's new research agenda focuses on the international dimensions of authoritarianism linked to a more assertive China. Recent work has explored international linkages in Cambodia's recent more authoritarian turn. He has investigated how the Belt and Road Initiative (BRI) is being contested, instrumentalised and manipulated by strategic actors in recipient states in Southeast Asia, amidst changing geopolitical dynamics and local struggles. He is also keenly interested in how these processes relate to dynamics of land dispossession and social conflict.
Neil completed his PhD at the School of Oriental and African Studies (SOAS) at the University of London in 2019. Prior to this he worked in Southeast Asia and the UK for various local and international human and environmental rights organisations.
Lecturer
Faculteit der Sociale Wetenschappen
Instituut Politieke Wetenschap
No relevant ancillary activities