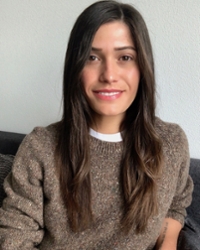 Mia Thomaïdou
Guest Employee
Name

A.M. Thomaïdou

Telephone

E-mail

ORCID iD
Mia THomaïdou is a PhD candidate at the Cognitive Psychology unit at the Institute of Psychology of Leiden University.
Short CV
My background combines cognitive neuroscience, neuropharmacology, psychopathology, as well as law studies. In the past 7 years I studied in London, Oxford, Amsterdam, and Leiden. Currently, I am pursuing my PhD, investigating fundamental neural mechanisms of neurocognitive disorders that may be involved in (chronic) pain. My PhD research is focused on the influence of factors such as fear and learning on the experience of pain.
Research
My research involves behavioral, neuroimaging, as well as pharmacological studies, which aim to examine fundamental mechanisms underlying nocebo effects on pain. In my PhD I am mainly working with healthy participants by creating experimental pain models. I am glad to be working with scientists who have been contributing to the knowledge-base of placebo, nocebo, and pain research for years. I am also delighted about designing novel paradigms that investigate the neural and cognitive correlates of nocebo and pain, by combining established psychology paradigms and cutting-edge neuroscience methods.
Relevant Links
ORCID ID: 0000-0002-2237-9459
Guest Employee
Faculteit der Sociale Wetenschappen
Instituut Psychologie
Gezondheids, Medische- Neuropsychologie
No relevant ancillary activities