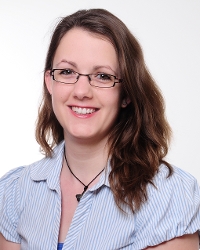 Meike Zemihn
Self funded PhD Candidate / Guest
Name

M.K. Zemihn MSc

Telephone

E-mail
I am a PhD student in Carel ten Cate's research group. My interests lie in the fields of animal communication and social behaviour, with a focus on vocal communication in cooperative breeders.
More information about Meike Zemihn
Research
I am generally interested in animal social behaviour and communication, particularly in vocal communication and language evolution. During my previous training I developed a fascination for cooperatively breeding species – species in which all members of a group help raise the dominant pair's offspring. As in such groups individuals have to rely on each other to ensure not only their own survival but also the care of young, they need to constantly monitor each other's behaviours and react accordingly. This, in turn, raises the need to communicate about external events and internal states – but the number of sounds an animal can produce are limited. How do animals overcome these restrictions? One possibility is subtle variation in the acoustic structure of their calls. Another intriguing strategy is to combine vocal elements to sequences which can have a new or related meaning – similar to what we humans do when we use language. During my PhD I investigate both of these strategies in the vocal communication of common marmosets, a cooperatively breeding New World primate, trying to understand the evolution of complex communication systems and human language.
Biography
Before I came to Leiden in March 2016, I started a PhD in Biological Anthropology at Durham University, United Kingdom. I was working on my project about common marmoset vocalisations and was supervised by Dr Rachel Kendal and Dr Esther Clarke, who continues to be involved in my project. I worked as a research assistant at the Arabian Babblers Project in Israel, which was founded by Prof Amotz Zahavi in the 1970's, and with captive meerkats in Prof Marta Manser's group at the University of Zurich, Switzerland. Marta Manser supervised me during my master's project on the function of lost calls in free-living meerkats in the Kalahari. I obtained my master's degree in Biology/Behavioural Sciences from the University of Zurich in 2012 and my bachelor's degree from the University of Kaiserslautern, Germany, in 2010. In 2011, I spent three months visiting Prof Ádám Miklósi's research group and assisted in various behavioural experiments with family dogs. During my undergraduate studies, I did a small project on habitat preferences of goldcrests and firecrests in a Palatinate Forest fragment, under the supervision of Dr Jürgen Kusch.
Grants & Fellowships
Research Grant from Leakey Foundation, USA
Research Grant from Dr. J.L. Dobberke Foundation, The Netherlands
Research Grant from Lucie Burgers Foundation, The Netherlands
PhD Scholarship from Evangelisches Studienwerk Villigst, Germany
Research Fellowship (3 months), University of Haifa, Israel
Travel Grant for MSc Thesis, Swiss Academy of Sciences (SCNAT+), Switzerland
Link:
Self funded PhD Candidate / Guest
Science
Instituut Biologie Leiden
IBL Animal Sciences
Work address
Sylvius
Sylviusweg 72
2333 BE Leiden
Contact
No relevant ancillary activities