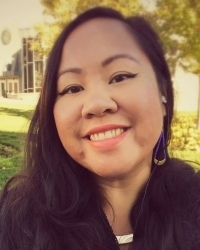 Mayo Buenafe
PhD Candidate
Name

A.M. Buenafe MA

Telephone

E-mail
Angela Mae ('Mayo') Buenafe-Ze, a Native Filipina, graduated May 2012 from the University of Nebraska - Lincoln, USA through a Fulbright Scholarship with a Master of Arts degree in Anthropology, Specializing in International Human Rights and Diversity. On November 2012, she started her PhD Research as a Louwes Fellow at the Insitute of Cultural Anthropology and Development Sociology of Leiden University to conduct a four-year research project entitled Agta Water Use and Management in the Northern Sierra Madre.
Her current PhD research project is a descriptive and comparative study on how contemporary hunter-gatherers like the Agta of Northern Sierra Madre, Philippines use and manage water resources according to evolving traditional knowledge and dynamic interactions with other groups. The main objective of this research is to specify how Agta knowledge and experiences regarding water use and management can be used as legitimate evidence to illustrate the complexities of food and water security for contemporary hunter-gatherers in protected areas. It specifically outlines the Agta's Perceptions, Locating (Processes), Extraction Strategies, Consumption Effects, and Water Management Issues in and around the protected area.
Prior research of Mayo Buenafe-Ze involved the protection and preservation of indigenous cultural properties, legal pluralism, and the evolving nature of indigenous knowledge systems.
PhD Candidate
Faculteit der Sociale Wetenschappen
Instituut CA/Ontwikkelingssociologie