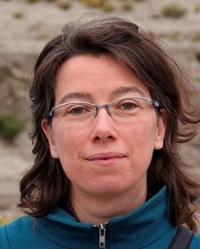 Martine van Haperen
Guest researcher
Name

Dr. M.C. van Haperen

Telephone

E-mail

ORCID iD
Office days
Thursday and Friday
Research
Van Haperen's research interests include mortuary archaeology, the archaeology of production, the early medieval period in North-West Europe, archaeological theory, modern and past dietary habits, the history of vegetarianism, relations between human and non-human animals, ethnography, economy and the relationship between archaeology and other social sciences.

As a postdoc in the Rural Riches project, van Haperen will focus on social aspects of early medieval production. The project studies the recovery of the early medieval economy in northern Gaul after the collapse of Roman authority. This is traditionally seen as an elite-driven process, but new perspectives are being developed about the role of rural populations. The project takes as its starting point the presence of precious and globally circulating objects in the cemeteries small rural communities. This is seen as an indicator that the rural population may have had a far more conspicuous role in the economic development of post-Roman Europe than has hitherto been thought.

Van Haperen's contribution will be to study the development of craft production. A substantial portion of the grave goods found in rural cemeteries was produced in the research area. With the development of the lavish burial ritual, which took many objects out of circulation, production in the region and imports from outside must have increased significantly to meet the demand from the growing population. However, in this non-modern, non-disenchanted society, production cannot have been a value-free practice, aimed simply at meeting the infinite need for commodities. Rather, it was likely to have been embedded in social and cosmological understandings and perceptions. Items such as dress accessories and weapons probably played an important part in the transmission of ideas and values.
Curriculum vitae
Van Haperen graduated as a Research MA from the European Archeology division of the University of Amsterdam in 2009, with a minor in cultural anthropology. She was then employed as researcher for the ANASTASIS Merovingian cemetery project, which aimed to publish and analyze a selection of old cemetery excavations from the middle and southern Netherlands. In the autumn of 2011 she was granted a Promoties in de geesteswetenschappen position by NWO and started a PhD project at Leiden University.

Her dissertation, which dealt with post-depositional interventions in Merovingian burials, was completed in the spring of 2017. She continues to cooperate closely with the international Grave Reopening Research group, which she joined during her PhD. After her viva, she worked for a short period as a university substitute teacher. In 2018 she started work as a postdoctoral researcher for the Rural Riches project. In addition to her work at the university, van Haperen also has an independent business offering plant-based cooking workshops, coaching and consultancy.
Guest researcher
Faculteit Archeologie
World Archaeology
Historical Archaeology
Haperen M.C. van (16 May 2017), In touch with the dead : early medieval grave reopenings in the Low Countries (PhD thesis, Faculty of Archaeology, Leiden University). Supervisor(s): Theuws, F.C.W.J.
Haperen M.C. van (2017), Contact met de doden. Vroegmiddeleeuwse heropende graven in de Lage Landen, Archeologie in Nederland. Tijdschrift voor vrijwilligers en professionals 1(1): 26-35.
Haperen M.C. van (2016), Merovingian Reopened Graves. A Scenario-based Approach to Interpretation.. In: Haperen M.C. van (Ed.) Limbs, Bones, and Reopened Graves in Past Societies. International Interdisciplinary Meetings 'Motifs through the Ages'. no. 2. 123-147.
Haperen M.C. van (2014), Early medieval graves, a Dutch Perspective. (Poland) (Lecture).
Haperen M.C. van (2014), Grafroof? Het heropenen van graven in Broechem. (Leiden) (Lecture).
Haperen M.C. van & (2014), Reopened graves. New perspectives on early medieval personhood in North-West Europe. Archaeology in Transition Symposium 25 9 2014-26 9 2014 [conference poster].
Haperen M.C. van (2013), The distributed dead: Personhood from the perspective of reopened graves. In: Ludowici B. (Ed.) Individual and Individuality? Approaches towards an Archaeology of Personhood in the first Millenium AD. no. Neue Studien zur Sachsenforschung Stuttgard: Konrad Theiss Verlag. 89-93.
Haperen M.C. van (2012), Reopened graves, new perspectives on early medieval personhood.(Groningen) (Lecture).
Theuws F.C.W.J. & Haperen M.C. van (2012), The Merovingian cemetery of Bergeijk-Fazantlaan. Bonn: Habelt Verlag Bonn.
Haperen M.C. van (2010), Rest in pieces: an interpretive model of early medieval 'grave robbery', Medieval and Modern Matters 1: 1-36.