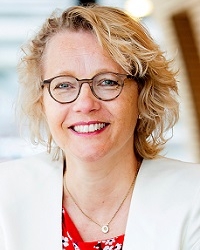 Marlies van Eck
Assistant professor
Name

Mr.dr. B.M.A. van Eck

Telephone

E-mail
Marlies van Eck is, since June 2018, Assistant Professor and Researcher at eLaw - Center for Law and Digital Technologies
More information about Marlies van Eck
Lecture Universiteit van Nederland
Biography
Marlies van Eck is, since June 2018, Assistant Professor and Researcher at eLaw - Center for Law and Digital Technologies. She is specialized in ICT & administrative law and interested in the impact new technology and its use by the government has on citizens and legal protection. As an external researcher at Tilburg University she combined her PhD research with her work as civil servant. In her thesis on Automated Administrative Chain Decisions and Legal Protection she performed legal and empirical research to observe and assess the execution of tasks by public administration. She studied Law at Radboud University Nijmegen specializing in Administrative Law and Information technology and Law (1995). Marlies spends time (some would say too much) on Twitter and plans to build an international network of colleague academics who are working in the field of informatization and digitalization of government and Law.
Assistant professor
Faculteit Rechtsgeleerdheid
Instituut voor Metajuridica
eLaw@Leiden
Zouridis S., Eck B.M.A. van & Bovens M. (2019), Automated discretion. In: Evans T., Hupe P. (Eds.) Discretion and the Quest for Controlled Freedom. Cham: Palgrave Macmillan. 313-329.
Eck B.M.A. van (2019), Computerbesluiten, kunstmatige intelligentie en de bestuursrechter, Tijdschrift voor Formeel Belastingrecht 20(2 / 8): 17-20.
Eck B.M.A. van, annotation: ABRvS 3 April 2019, AB 2019,27 (AB 2019/290 Ketenbesluiten. Baseren van gegevens uit een basisregistraties door een ander bestuursorgaan. Onevenredig nadelige gevolgen).
Eck B.M.A. van, Bovens M. & Zouridis S. (2018), Algoritmische rechtstoepassing in de democratische rechtsstaat, Nederlands Juristenblad 93(40): 3008-3017.
Eck B.M.A van. (2018), Computerbesluiten bij de overheid; recht en rekenen, Ars Aequi 67(11): 962-967.
Eck B.M.A. van (9 February 2018), Geautomatiseerde ketenbesluiten & rechtsbescherming (PhD thesis. Public Law, School of Law, Tilburg University). S.l.: s.n.. Supervisor(s): Zouridis S., Waard B.W.N. de.
Eck B.M.A. van, annotation: Afdeling bestuursrechtspraak van de Raad van State 17 May 2017, no. 201600614/1/R2, 201600617/1/R2, 201600618/1/R2, 201600620/1/R2, 201600622/1/R2 en 201600630/1/R2, CR 2017,6; 392-397 (Computerrecht 2017/256 Lokale overheden moeten voor de vraag of iemand een vergunning krijgt voor een stikstofverhogende activiteit (zoals het uitbreiden van een veehouderij) gebruikmaken van een landelijk computerprogramma).
Eck B.M.A. van (2016), Je hebt wél iets te verbergen. Verslag van het Grote Privacy Experiment, Privacy & Informatie 2016(5 / 194): 197-198.
Lesgeven
adviseren over juridische aspecten rond inzet van IT en AI