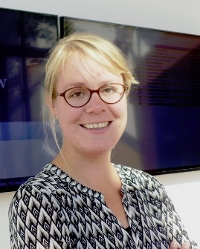 Marieke Visser
PhD candidate
Name

K.M. Visser MA

Telephone

E-mail

ORCID iD
Background
Marieke Visser studied Archaeology at Stockholm University (BA and MA), first as an exchange student as part of her language studies at Amsterdam University, and later as a free mover. She specialised in the Prehistory of Northern Europe and in Osteoarchaeology. Her Master thesis dealt with bird bone material mainly from the Neolithic, focusing on fowling patterns and the stratigraphy and chronology of the investigated site (Stora Förvar, Stora Karlsö, Sweden).
Research
PhD project: "Economies of Destruction. The emergence of metalwork deposition during the Bronze Age in Northwest Europe, c. 2300-1500 BC."

From 1 September 2015, Marieke is a PhD within the VICI project "Economies of Destruction", led by prof. dr. David Fontijn. In her research, she is dealing with Early Bronze Age metalwork deposition practices and their development in the region West Jutland (Denmark), North Germany and the Northern and Western Netherlands. One of the aspects she will investigate is the differences between deposition practices in watery places and in burials in the region.
PhD candidate
Faculteit Archeologie
World Archaeology
Europese Prehistorie
Work address
Van Steenis
Einsteinweg 2
2333 CC Leiden
Room number A1.07
Contact