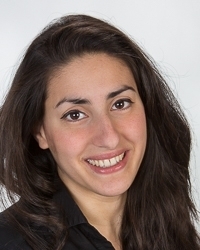 Mariana Gkliati
PhD candidate
Name

M. Gkliati

Telephone

E-mail
Mariana Gkliati is a legal researcher specializing in human rights protection in Europe and European Migration Law. She studied Law at the National and Kapodistrian University of Athens and obtained a Legal Research Master's degree at Utrecht University.
Her work experience is shared among Vienna, Athens, and Leiden. She has previously worked at the EU Fundamental Rights Agency in the area of asylum, migration, and borders and as a legal case reporter and commentator for Oxford Reports on International Law database. In her early carrier she has worked as a journalist and assisted voluntarily the NGO AITIMA, which provides legal and social aid to asylum seekers and refugees.
She is currently conducting doctoral research at the Institute of Immigration Law under the supervision of Prof. dr. Peter Rodrigues and Prof. dr. Leonard Besselink. Her PhD research focuses on legal accountability and effective legal protection of individuals against human rights violations in the area of asylum and immigration attributed to the EU agency Frontex (European Border and Coast Guard Agency).
Mariana is a member of the editorial board of the Refugee Law Initiative Working Paper Series and an external affiliate to Statewatch (Frontex Observatory).
PhD candidate
Faculteit Rechtsgeleerdheid
Instituut voor Publiekrecht
Immigratierecht
Work address
Rapenburg 38
2300 RA Leiden

Contact