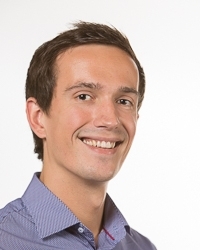 Marco Stam
Lecturer
Name

M.T.C. Stam MSc

Telephone

E-mail

ORCID iD
Marco Stam is a Ph.D.candidate at the department of Economics of Leiden University. Prior to his appointment at Leiden University he obtained his BSc. and MSc. in Criminology from the Vrije Universiteit Amsterdam.
Marco has finished his BSc. in Criminology, MSc. (cum laude) in Investigative Criminology and the Research Track Criminology at the Vrije Universiteit Amsterdam. During his master study he completed a research internship at the Netherlands Institute for the Study of Crime and Law Enforcement (NSCR). At this institute he wrote his master thesis on the relation between the spatiotemporal distributions of twitter messages and violent crime.
Title of research: The relationship between welfare benefits, employment and crime
As a Ph.D. candidate, Marco is researching the relationship between welfare benefits, employment and criminal behavior. In light of recent welfare reforms, this project has come to existence as a collaboration between the Department of Economics and the Department of Criminology of Leiden University. As such, it falls under the respective research programs 'Reform of Social Legislation' and 'Criminal Justice: Legitimacy, Accountability and Effectivity'.
Publications:
Bosse, T., Gerritsen, C., de Man, J., & Stam, M.T.C. (2014). Inducing anxiety through video material. In C. Stephanidis (Ed.), Human-Computer Interaction International 2014 – Posters' Extended Abstracts (pp. 301-306). New York, NY: Springer International Publishing.

Stam, M.T.C., Gerritsen, C., Van Breda, W., Krainski, E.T. (2017). Assessing the Spatiotemporal Relation between Twitter Data and Violent Crime. In B. Verheij, & M. Wiering (Eds.), Preproceedings of the 29th Benelux Conference on Artificial Intelligence (BNAIC 2017) (pp. 213-223). Groningen: University of Groningen.
Lecturer
Faculteit Rechtsgeleerdheid
Instituut voor Strafrecht & Criminologie
Criminologie
Guest staff member
Faculteit Rechtsgeleerdheid
Instituut Fiscale en Economische vakken
Economie
No relevant ancillary activities