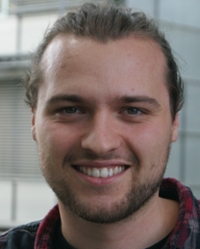 Leon Capelôa
PhD student
Name

L. Capelôa

Telephone

E-mail

ORCID iD
PhD student
Science
Leiden Academic Centre for Drug Research
LACDR/Drug Delivery Technology
Capelôa L., Yazdi M., Zhang H., Chen X., Nie Y., Wagner E., Lächelt U. & Barz M. (2022), Cross-linkable polyion complex micelles from polypept(o)ide-based ABC-triblock copolymers for siRNA delivery, Macromolecular Rapid Communications 43(12): 2100698.
Negwer I., Best A., Schinnerer M., Schafer O., Capeloa L., Wagner M., Schmidt M., Mailander V., Helm M., Barz M., Butt H.J. & Koynov K. (2018), Monitoring drug nanocarriers in human blood by near-infrared fluorescence correlation spectroscopy, Nature Communications 9: 5306.
Klinker K., Schäfer O., Huesmann D., Bauer T., Capelôa L., Braun L., Stergiou N., Schinnerer M., Dirisala A., Miyata K., Osada K., Cabral H., Kataoka K. & Barz M. (2017), Secondary-Structure-Driven Self-Assembly of Reactive Polypept(o)ides: Controlling Size, Shape, and Function of Core Cross-Linked Nanostructures, Angewandte Chemie (International ed. in English) 56(32): 9608-9613.
No relevant ancillary activities