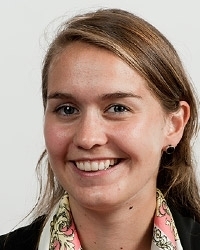 Kirsten Ziesemer
PhD candidate / Guest Staff Member
Name

K.A. Ziesemer MSc

Telephone

E-mail
The PhD project disease transformations across the historical divide in the Circum-Caribbean is part of the multidisciplinary NEXUS 1492 project funded by the ERC Synergy grant rewarded to prof. dr. C.L. Hofman.

The proposed PhD research by Kirsten Ziesemer MSc will study transformations in disease across the historical divide (1000-1800 AD) in the Caribbean to make interpretations about mobility and exchange of pathogens. This PhD will address questions in terms of spatial and temporal change in the pathogens found in dental calculus from skeletal material from the Circum-Caribbean area. It is suggested that DNA of any micro-organism present in the specimen at death may survive for a reasonable amount of time, especially in the crystalline matrix of dental calculus (Sadava et al., 2007). During this study she will use the innovative Next Generation Sequencing method to answer the research questions. Molecular analysis to diagnose pathogenic disease in skeletal material is intriguing, because it provides the opportunity to look at the evolution of the disease-causing agent, to investigate the history of the spread of disease around the world (Katzenberg & Saunders, 2008). Furthermore, it provides the opportunity to identify the causative agent in cases where several agents may result in similar morphological changes in the skeleton or in apparent healthy skeletons (Katzenberg & Saunders, 2008). Moreover, Ancient DNA techniques allows to possibly reveal new pathogens that have been affecting people for some time (Katzenberg & Saunders, 2008).

Kirsten Ziesemer holds a bachelor degree in bio-medical science from the University of Amsterdam, where she took extra courses in forensic sciences and physical anthropology (at the University of Leiden). She continued her studies at the University of Leiden in human osteology and funerary archaeology with a second specialization in paleo-ecology. Extracurricular activities during her master's degree were an honoursprogramme and an anatomy course at the Amsterdam Medical Center (AMC). In the summer of 2013 she voluntueered for the recovery and identification unit of the military, aiding in the identification of second world war victims and studying their, sometimes individual specific, pathologies. Her main research interests are molecular archaeology, diseases, genetics, epigenetics and osteoarchaeology.
PhD candidate / Guest Staff Member
Faculteit Archeologie
World Archaeology
Caribbean and Amazonia